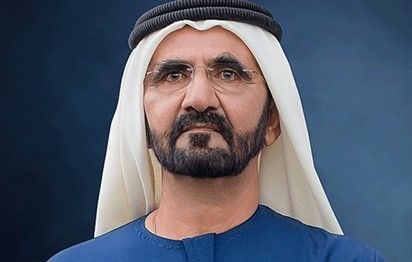 Who Is Sheikh Mohammed bin Rashid Al Maktoum?
Sheikh Mohammed bin Rashid Al Maktoum was born in Dubai in 1949 and grew up in the home of his grandfather Sheikh Saeed bin Maktoum Al Maktoum in the Al Shindagha area in Bur Dubai. His companions were his brothers, cousins, and sons of the Dubai families who were merchants and tribesmen. He was accompanied by his grandfather, Sheikh Saeed, in his councils, to be his first school in government. From his childhood, he trained in falconry, equestrianism, archery, and swimming.
Brief about Mohammed bin Rashid Al Maktoum
His study
His military
Crown Prince of Dubai
His accomplishments in the mandate of the Covenant
His Study
At the age of seven, in 1955, he entered the Ahmadiyya School to learn the rules of Arabic, English, Geography, History, and Mathematics, then he moved, at the age of ten, to Al-Shaab School and then to Dubai High School.
On the death of his grandfather, his father, Sheikh Rashid bin Saeed Al Maktoum, assumed power on September 9, 1958, in the Emirate of Dubai. Sheikh Muhammad continued to accompany him to his father. As he was with his grandfather, to learn the basics of leadership. At the same time, Sheikh Muhammad completed his secondary education with distinction, graduating at the end of the academic year 1964/65.
His military
Sheikh Rashid saw in his third son attributes that form the foundations of leadership and encouraged him to turn towards military life and assign him responsibility for security in the Emirate of Dubai. He had to enter a military college. But before joining the military colleges, he had to improve his English, and accompanied his cousin, Sheikh Mohammed bin Khalifa Al Maktoum, in August 1966, to London, to attend the Bell Language School in Cambridge. He then joined the British Military College of Mons in Aldershot, where he finished his military training there and honed his leadership talents.
After his return from Britain and in the late sixties, Sheikh Rashid issued a decree appointing his son Sheikh Mohammed bin Rashid. As head of the Police and Public Security in Dubai and in 1971, he issued another decree to form Sheikh Mohammed. In addition, The Dubai Defense Force that merged in 1975 in the armed forces of the UAE and has become the Minister of Defense in the Federal State Boys.
Crown Prince of Dubai
Sheikh Maktoum bin Rashid Al Maktoum, the elder brother of Sheikh Mohammed, in his capacity as Ruler of Dubai. It issued on March 4, 1995, the decision to appoint Sheikh Mohammed bin Rashid Al Maktoum as crown prince in the Emirate of Dubai. Hamdan bin Rashid Al Maktoum as Deputy Ruler of the Emirate of Dubai.
His accomplishments in the mandate of the Covenant
Most of the modern projects in Dubai started with Sheikh Mohammed taking over the reign of Al-Ahd in the Emirate of Dubai. So, they approved and supported by his brothers, especially since these projects were contributing quickly to drawing a new bright picture of Dubai. Which needed such projects to deplete oil in it, which no longer constitutes more 20% of her income at that time.
Top topics
Dubai Marketing
Dubai Shopping Festival
Sheikh Rashid Building
Burj Al Arab
Dubai Internet city
Dubai Quality Award
Fly Emirates
Dubai Government Excellence Program
The Palm Project
Dubai e-government
Dubai Marketing
To achieve credibility in its ability to implement what it promises.
All that Dubai has to offer is taking place in a safe and successful climate.
As well as, It's the best way of marketing it is that when it announces a new project. It confirms that more is still coming and actually, and within a short period of time.
Dubai Shopping Festival
In late 1995, he announced the birth of the Dubai Shopping Festival. It was one of his first of many initiatives that cemented his leadership role as crown prince. In addition, taking upon himself the process of development and modernization. The aim behind this annual festival was to use it as a means to promote the UAE economy on a global level. As the value of sales reached nearly a billion dollars in its first session. Sheikh Mohammed wanted to sing the festival with exciting events and activities.