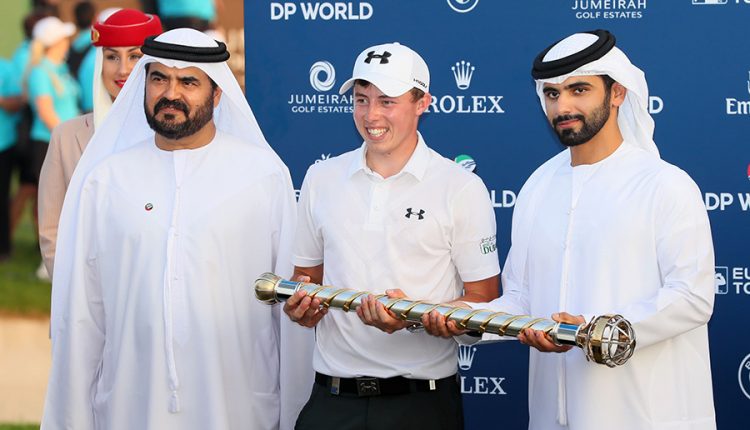 Sheikh Mansour bin Mohammed becomes DP World Tour Championship patron
The Chairman of the Dubai Sports Committee, H.H. Sheikh Mansour bin Mohammed bin Rashid Al Maktoum, has been the patron of the DP World Tour Championship, Dubai, the season-ending European Tour competition.
Sheikh Mansour took over the sponsorship of the Tour's final Rolex Series event. The Crown Prince of Dubai, Sheikh Hamdan bin Mohammed bin Rashid Al Maktoum. He succeeded as Chairman of the Dubai Sports Committee.
For the 12th consecutive edition, from 10 to 13 December 2020, the DP World Tour Championship, Dubai, returns to Jumeirah Golf Estates.
The World Tour Championship
The tournament has been one of the highest-profile events on the golfing calendar since its establishment in 2009, with previous champions. Including Lee Westwood, Rory McIlroy, Henrik Stenson, Danny Willett and reigning champion Jon Rahm. Rahm won the title for the second time in three years last November and was also crowned the 2019 Race to Dubai Champion.
As part of the Dubai Sporting Council's Sports Event Ratings Scheme, it is one of only four events in the emirate with a five-star grade.
Sheikh Mansour said, "Dubai is one of the world's top sporting destinations, especially for golf fans and fans. It's also only fitting that we're hosting the European Tour's season-end finale here."
This festival is a golf double-celebration, and this year, after all the obstacles we have faced since the COVID-19 outbreak. It will bring much greater symbolism. So we look forward to bringing the world's leading golfers back to Dubai for the DP World Tour Championship's 12th edition. As well as the conclusion of the Dubai Race.
"Keith Pelley, Chief Executive of the European Tour, added". We thank Sheikh Hamdan for all his encouragement and look forward to working with Sheikh Mansoor. This is to ensure the continued success on the world stage of this prestigious tournament.
An additional event was recently announced by the European Tour with the Dubai Golf Championship sponsored by DP World to be played on the Jumeirah Golf Estates Fire Course the week before the DP World Tour Championship, a captivating double-header that will end the 2020 season from 2nd to 5th December.