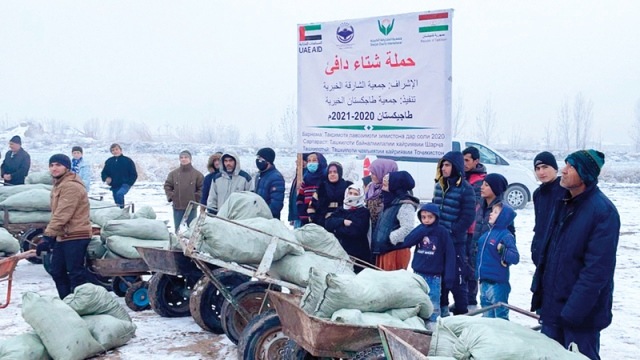 UAE- SCI launches the Warm Winter seasonal campaign
Sharjah Charity International (SCI) has announced the start of its "Warm Winter" seasonal campaign, which deals with the distribution of in-kind assistance such as clothing, blankets and heating supplies to families and the poor to shield them from the winter.
The initiative is effective now in collaboration with the embassies of the government and their members in those countries. Also through the offices of the organization in Africa and Asia.
Warm Winter campaign is a life savior
Mohamed Hamdan Al Zari, Department Director of Projects and Assurances, said that the initiative was initiated by providing in-kind materials. This is to the deserving families in many countries at the beginning of the season. In accordance with the guidance of the board of directors of the association led by Sheikh Saqr bin Mohammad Al Qasimi, Chairman of the Board of Directors.
Al Zari pointed out that the initiative is part of the country's approach to carrying out humanitarian campaigns in the countries most in need, taking into account the humanitarian and environmental factors, and that the organization carries out numerous campaigns every year in the countries covered by aid and development programs, delivering immediate relief and also logistical help to the citizens of those countries.
Many aids are on the way
The Warm Winter campaign is one of many initiatives by the UAE. The UAE thinks ahead of circumstances. This is in order to provide those in need with everything they need during a harsh winter. The UAE Embassy in Rome has begun providing winter assistance to needy families and individuals. Helping 15,000 people in Italy, San Marino and North Macedonia.
The scheme forms part of the winter relief initiative initiated by the ERC to support citizens afflicted by the cold in 25 countries and has been organized by the Embassy of the United Arab Emirates in Rome, the ERC, the Italian Red Cross, civil protection agencies, various public bodies and non-profit organizations.
Dr. Mohammed Ateeq Al Falahi, ERC Secretary-General, said that the policy is valid on the basis of Sheikh Hamdan's directives and supervision.
He added that during the year, Sheikh Hamdan is keen to help those affected and provide for their basic needs. But he instructed the ERC to prioritize winter provisions. As the people affected remain in camps and other places that lack heating.