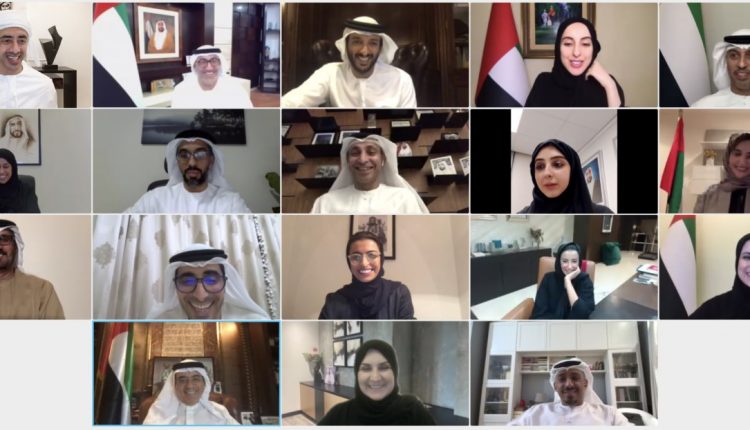 Abdullah bin Zayed chaired virtual EHRC Meeting via video conferencing
Minister of Foreign Affairs and International Cooperation and Chairman of the Education and Human Resources Council, EHRC, His Highness Sheikh Abdullah bin Zayed Al Nahyan, chaired the EHRC meeting held remotely via video conferencing technology.
During the meeting, Sheikh Abdullah highlighted their unlimited sacrifices and devotion to their profession and country, and praised the key role of nursing cadres during the COVID-19 pandemic, stressing that they deserve continuous support and appreciation, being a key category of frontline workers.
EHRC Meeting discussed National Strategy
Minister of Health and Prevention, His Highness Abdul Rahman Bin Mohammed Al Owais, presented the National Strategy for Nursing and Midwifery Professions-Roadmap for 2025, which reflects the country's keenness to adopt the best regional and global practices to strengthen the health system and achieve leadership.
The United Arab Emirates's strategy promotes public and specialist nursing academic programs, and raise the quality of nursing care and midwifery services around the country through five strategic pillars, which are governance and effective legislation, a comprehensive labor administration system for the nursing and midwifery profession, high-quality health and nursing services, improving the quality and innovation in education and professional development, and scientific research and evidence-based practice.
Minister of Education, His Highness Hussain Ibrahim Al Hammadi, presented the latest developments and statistics related to the education system amidst the COVID-19 pandemic, and on the procedures and controls governing teachers, students, and administrative staff attendance at public and private schools, universities, nurseries.
EHRC Meeting Members
The meeting was attended by Minister of Health and Prevention, Abdul Rahman bin Mohammad bin Nasser Al Owais, Minister of Education, Hussain bin Ibrahim Al Hammadi, Minister of Culture and Youth, Noura bint Mohammed Al Kaabi, Minister of State for Public Education, Her Excellency Jameela Al Muhairi, Minister of Human Resources and Emiratisation, Nasser bin Thani Al Hamli, Minister of Community Development, Hessa Essa Buhumaid, Minister of Economy, Abdulla bin Touq Al Marri, Minister of State for Entrepreneurship and SMEs, Dr. Ahmad Belhoul Al Falasi, Minister of State, and United Arab Emirates University Chancellor, Zaki Nusseibeh, Minister of State for Youth Affairs, Shamma bint Suhail Faris Al Mazrui, and Minister of State for Advanced Sciences, Secretary-General of the Council, Sarah bint Yousif Al Amiri.