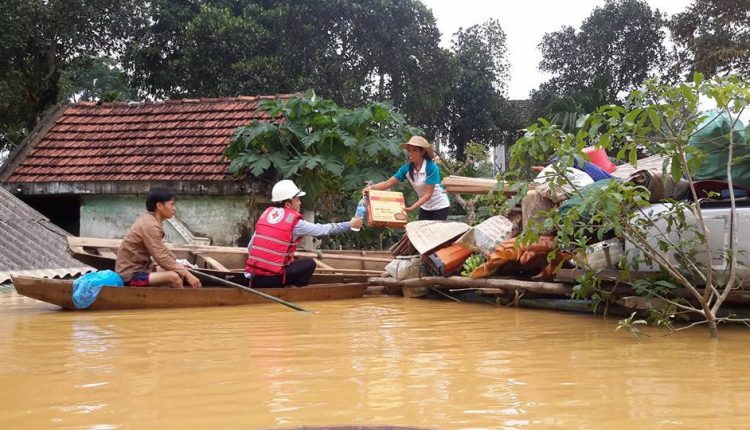 UAE expresses condolences to Vietnam over flood victims
A  lot of condolences were sent by President His Highness Sheikh Khalifa bin Zayed Al Nahyan to President of Vietnam Nguyn Phu Trong for the victims of the latest floods.
Vietnam receives condolences
The Vietnamese President was also sympathized by His Highness Sheikh Mohammed bin Rashid Al Maktoum, Vice President, Prime Minister and Ruler of Dubai, and His Highness Sheikh Mohamed bin Zayed Al Nahyan.
Floods and landslides in Vietnam have reportedly left at least 102 people dead or missing, while tens of thousands have lost their homes to rising water.
Two storms that hit central Vietnam in the first two weeks of October, Storm Linfa and Storm Nangka, brought six times more rainfall than average, flooding 136,000 homes and prompting 90,000 people to evacuate their homes.
Vietnam had a hard time dealing with the floods
The hardest hit is the province of Hue, about 700 km (434 miles) from Hanoi, the capital. In Ha Tinh district, police and soldiers used canoes and boats to enter the most flooded areas in order to rescue residents and relocate property to safety. There were more than 20,700 persons confirmed to have been evacuated in this city alone.
Flood water begins to rise in Quang Binh province, 130 km away, swallowing up whole houses or crushing them under landslides. When an estimated 3,000 tons of rock and dirt fell down on homes and highways, about 60 residents were evacuated in total.
Landslides buried a military barracks at Quang Tri, killing 22 soldiers and officers.
Blue Dragon, a non-governmental group that supports Vietnam's at-risk families, is one of a handful of nonprofits operating in Hue, steadily trickling in with support and donations.
Creator Michael Brosowski said: "Every year, Hue experiences floods, but this year's size and pace are surprising." Area people now live in a manner that is prepared but on a much broader scale, for a natural catastrophe. They're going to have to start all over again.'