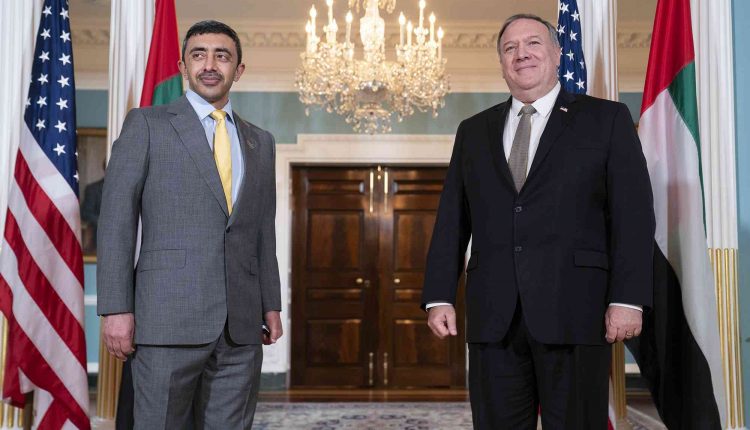 Abdullah bin Zayed meets with Pompeo and leaders of US Congress
The UAE Minister of Foreign Affairs and International Cooperation, His Highness Sheikh Abdullah bin Zayed Al Nahyan, met at the end of his visit at the head of the country's delegation to the American capital Washington, and the signing of the historic peace treaty between the UAE and the State of Israel, Mike Pompeo, the US Secretary of State, and a number of leaders of the US Congress And its members.
Abdullah bin Zayed meeting with Pompeo & leaders of US Congress
In the meeting, His Highness focused on ways to strengthen the UAE-Israeli peace treaty, for regional peace and stability, by stopping the annexation processes, and to contribute to creating new positive effects for change throughout the Middle East region.
UAE and the United States bilateral relations
He discussed bilateral relations between the UAE and the United States, and affirmed a common commitment to cooperate within the efforts made to combat the spread of the Coronavirus, as well as to enhance peace and security in the Arab Gulf region, confront extremism and deter threats that destabilize regional stability.
Members of US Congress
His Highness Sheikh Abdullah bin Zayed presented a briefing attended by senior members of US Congress, including Senator Lindsey Graham (Republican – South Carolina), Senator Todd Young (Republican – New Jersey), Senator Ben Cardin (Democratic – Maryland), Senator Bot Menendez (Democratic – New Jersey), And Chairman of the Armed Forces Committee Representative Adam Smith (Democrat – Washington State).
He stressed the importance of the decades-old Emirati-American partnership, which he described as one of the most important strategic Emirati relations. Pointing out that the UAE has been the largest market for exporting American goods and services for more than a decade in the Middle East.
The meeting was attended by: Reem Al-Hashemi, Minister of State for International Cooperation, and Yousef Al-Otaiba, the country's ambassador to the United States.
The meeting between His Highness Sheikh Abdullah bin Zayed and Mike Pompeo also participated in the meeting: Reem Al Hashimi and Youssef Al Otaiba, and Ali Saeed Al Niyadi.
Source: WAM