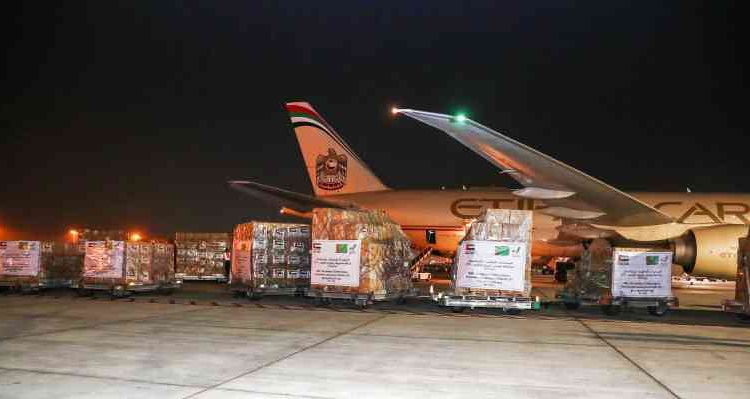 UAE sent medical supplies and examination devices to Turkmenistan
Yesterday, the UAE sent an aid plane with 60 tons of medical supplies and examination devices to Turkmenistan, out of 90 tons allocated to it to support the efforts of 90,000 health workers and enhance their ability to cope with the spread of the emerging Coronavirus.
UAE and Turkmenistan Distinguished relationships
Abdulaziz Al-Hashemi, the Chargé d'Affaires of the UAE embassy in Ashgabat said: "The UAE and Turkmenistan enjoy distinguished bilateral relations that enjoy the support and care of the leaderships of the two friendly countries, within the framework of continuous keenness to strengthen and develop them in all development fields in a way that achieves common interests."
He added: «The UAE hopes that the medical aid sent to enhance the capabilities of the medical and nursing staff in Turkmenistan and provide more protection for it in the face of the pandemic.
It is noteworthy that the UAE provided more than 1,248 tons of aid to more than 92 countries, which benefited more than one million medical workers.
Turkmenistan prohibits the use of the word Coronavirus
The Turkmen authorities have banned the use of the word Coronavirus, and have excluded it from use with a view to concealing information about the epidemic.
According to human rights activists, the authorities have banned all media outlets in the country from mentioning the word Coronavirus. It was also excluded from the special brochure sent by the Turkmen Ministry of Health to educational institutions, hospitals and workplaces, as Russia published today.
At the same time, security personnel in civilian clothes can arrest citizens wearing medical masks in the streets, and talk about the spread of the new epidemic of Coronavirus worldwide.
Earlier, during a government meeting, the President of Turkmenistan, Gurban Guli Berdy Mammadov, advised citizens to defend themselves against viruses by using an ancient folk remedy (using the fumigation of the burning herb for the prevention and confrontation of coronavirus).
He said, "Smoke from the Hermel plant is considered an effective way to deal with different viruses invisible to the eye." The leader of the country indicated that, over thousands of years, Turkmen ancestors devised national methods to combat bad habits and prevent various infectious diseases.
According to the latest official data, so far no cases of the emerging coronavirus have been registered in Turkmenistan.