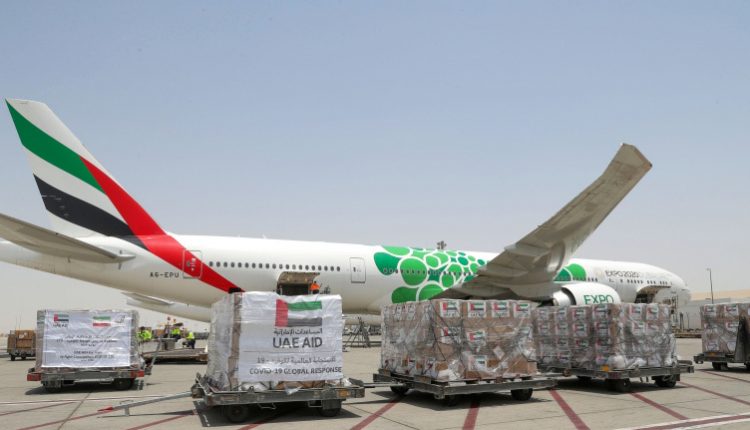 UAE sends fourth medical aid plane to Iran
The United Arab Emirates has sent an aid plane containing 16 tons of urgent medical supplies to Iran, to support it in limiting the spread of the new coronavirus, and more than 16 thousand health care workers will benefit from it to enhance their efforts in containing (COVID-19).
To counter Corona … a medical aid plane from the Emirates to Iran
This plane is the fourth that the United Arab Emirates has sent to Iran since last March. On March 16, the state sent two aid plane carrying more than 33 tons of vital medical supplies, and another plane was sent on the third of March containing 7.5 tons of medical supplies in cooperation with the organization Global health.
In the context, Saif Al-Zaabi, the UAE's ambassador to Iran, said: "The United Arab Emirate's efforts to operate a number of urgent medical supplies planes to help the medical sector in Iran reflect the originality of the humanitarian approach and the spirit of tolerance and solidarity in the Emirati policy that has always stood by leadership and people alongside Countries and peoples in difficult times, support them and save their lives, without regard to any other considerations. "
He added: "The United Arab Emirates hopes that these supplies will contribute to strengthening the capabilities of the medical and nursing staff in Iran and provide more protection and protection for them."
It was declared on the official account of Ministry of Foreign Affairs and International Cooperation-UAE:
UAE Sends Additional Aid to Iran in Fight against COVID-19.https://t.co/qyHzxHQOJa

— وزارة الخارجية والتعاون الدولي (@MoFAICUAE) June 27, 2020
The World Health Organization sends a team and medical aid to Iran via the UAE
On March 2, 2020, The World Health Organization (WHO) has sent an aid plane that includes a team and medical supplies to Iran for the first time since the outbreak of the coronavirus, which originated in this country, with the help of a United Arab Emirates military plane launched from Dubai loaded with tons of masks and test equipment through Dubai international city.
"The flight on the Emirati military plane" carries 7.5 tons of medical supplies and equipment necessary to prevent proliferation and control, in order to support health workers in Iran, "said Robert Blanchard, from the operations department at the organization's headquarters in Dubai.
UAE sends 2 aid plane to Iran to fight Corona epidemic
On March 16, 2020, the United Arab Emirates sent 2 aid plane carrying medical supplies and relief equipment to Iran to support them in the face of the emerging coronavirus.
The 2 aid plane that took off from the capital Abu Dhabi carried more than 32 tons of supplies, including boxes of gloves, surgical masks, and protective equipment.
It also brought with her five World Health Organization (WHO) experts to help 15,000 health care workers.
Source: WAM