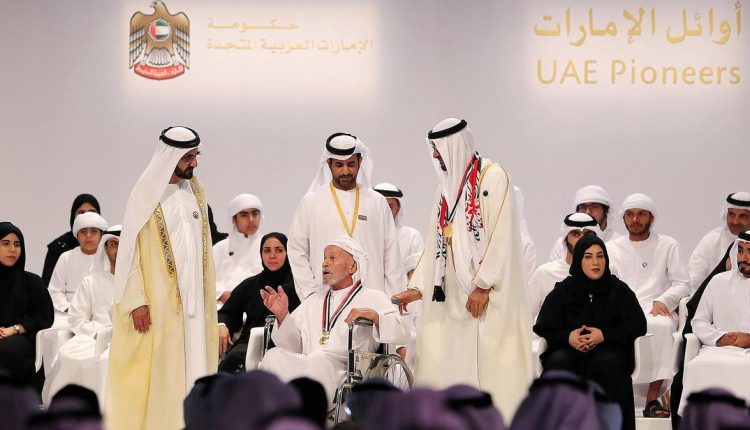 UAE Pioneers Award to honor outstanding persons and organizations
In appreciation of their contributions, thousands of outstanding UAE citizens who contributed to make the UAE an example in grappling with COVID-19 will be awarded at an annual award ceremony of the UAE Pioneers Award this year.
Sheikh Mohammed bin Rashid is personally supervising the award
Dubai's Vice President, Prime Minister and Monarch, His Highness Sheikh Mohammed bin Rashid Al Maktoum, announced that the 2020 UAE Pioneers Award will be devoted to honoring those who have made every attempt to make the UAE a role model in controlling the COVID-19 pandemic.
"Sheikh Mohammed said on his Twitter page. "Brother and sisters. We have given directives to award the 2020 UAE Pioneers Award to honor outstanding individuals and also organizations. They have made the UAE an example in coping with the COVID-19 pandemic. The nominating campaign will also be going using the hashtag #UAEPioneers. They'll both get the reward'.
About the UAE Pioneers Award
After Sheikh Mohammed spearheaded a hashtag campaign on social media that inspired UAE citizens to promote and highlight social work in the region. The UAE Pioneers Award was first launched in 2014.
The UAE Pioneers project also seeks to recognize the role models and contributions of the Emirati in different fields. Also to honor the leading pioneers who have helped promote the status of the UAE in different fields. The program has honored a variety of persons and organizations. This was for their distinguished inventions and programs over the past few years. The winners are featuring in the annual UAE Pioneers Book as well.
Pervious winners of the precious honorable award
A total of 14 winners were awarded in 2019, including individuals, organizations, and programs that helped foster tolerance in the UAE, while a total of 30 awards were given in 2018. Louvre Abu Dhabi, Emirates Airlines, UAE Military, and also Dubai Airports were the winners.