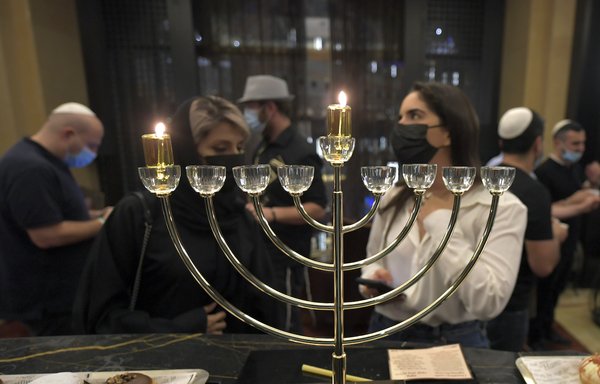 The UAE celebrates the first Open Hanukkah
Dubai's famed Burj Khalifa lit up on Dec. 11, the second day of Hanukkah, the Jewish holiday also known as the Festival of Lights or Wonders, to commemorate the anniversary of the first night of Hanukkah in the UAE, and the first time the holiday has been publicly observed in the world since the ancient Abraham Accords were signed with Israel. All over Dubai and Abu Dhabi, celebrations have been celebrated.
The first
Hanukkah in the UAE is a symbol for actual peace
The message behind Hanukkah for Jews is to spread light over darkness. The normalization of relations between the UAE and Israel ends decades of metaphorical and figurative cultural and economic darkness between Israel and many of its Arab neighbors in many respects.
At the onset of the Maccabean rebellion against the Seleucid Dynasty during the 2nd century BC. Hanukkah commemorates the recuperation of Jerusalem and the eventual rededication of the Second Temple.
The illumination of the menorah, consuming traditional meals, playing games and offering presents was usually a celebration.
This is not the first year in the UAE in which Hanukkah is being celebrated. Rather, it is the first time it has been publicly known and praised, and with the general population of the UAE.
"Ross Kriel, the current and first president of the Jewish Council of the Emirates, said. "I have marvelous memories of lighting the Hanukkah menorah in the desert.
This gave us anonymity, but also encouraged us to light up in a community. Many of us were also sleeping in the desert, and a camel caravan could move behind the menorah in the morning," added Kriel, an Oxford-educated lawyer from Dubai and originally from South Africa."
We also thought that our exotic Hanukkah experience was a perfect reflection of Hanukkah's idea. Jewish identity prevails wherever it might be through the clear dedication of Jews igniting lamps. In the UAE, this miracle took place over several years, dating back to 2010.
This year, says Kriel, in a smart hotel on the Palm Jumeirah. The Jewish Council of the Emirates held its event in the heart of Dubai.