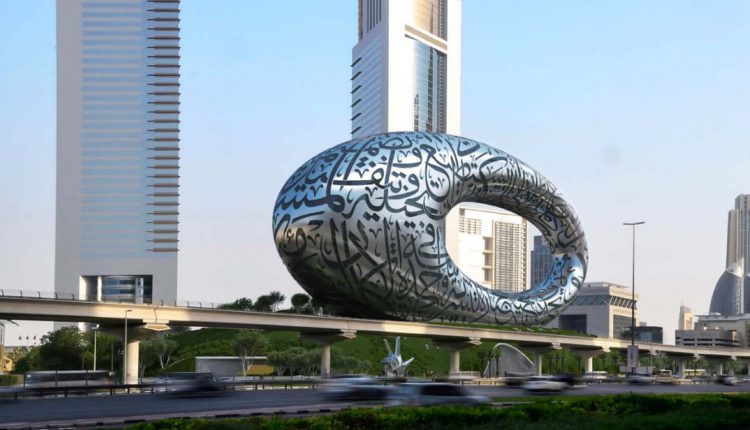 Mohammed bin Rashid attends the final part installation at the Museum of the Future
On Saturday, His Highness Sheikh Mohammed bin Rashid Al Maktoum, Vice President, Prime Minister and Governor of Dubai, said that the Museum of the Future is a worldwide monument of urban excellence and an important commitment of the Emirati to a brighter future.
The Museum of the Future is a great monument
The Museum of the Future, a universal architectural symbol, blends our ancient Arab history with far-reaching aspirations. It is a global innovation phenomenon, but it speaks the Arabic language,' His Highness said during a ceremony marking the addition of the final item to the exterior of the Museum of the Future, a major step in the final arrangements for the completion of the future landmark that represents the specific urban successes of the UAE and adds to the respected architectural masterpiece track record of Dubai.
We are not looking for architectural wonders, but rather to unleash human capacity to create a better world abounding in miracles and bearing witness to the incredible accomplishments of the UAE. As the world continues to be in progress with those who know exactly what they want, Dubai will continue to produce architectural masterpieces,' His Highness added.
Along with the Emirates Towers, the Dubai International Financial Centre and the Dubai World Trade Centre, the Museum of the Future represents an environment guided by creativity that will fuel growth and advance the process of creation.
"Upon completion, the Museum of the Future will talk of urban excellence," Sheikh Mohammed said while being showed about the progress of construction on the façade of the landmark, where he was briefed by the Dubai Future Foundation committee, the body responsible for the scheme, on the key architecture strategies, architectural styles and state-of-the-art solutions used to achieve the cultural land.
His Highness Sheikh Hamdan bin Mohammed bin Rashid Al Maktoum stated during the visit that through the talent and commitment to lead the field of developing the future, Dubai and the UAE will continue on the road of innovation in different fields.