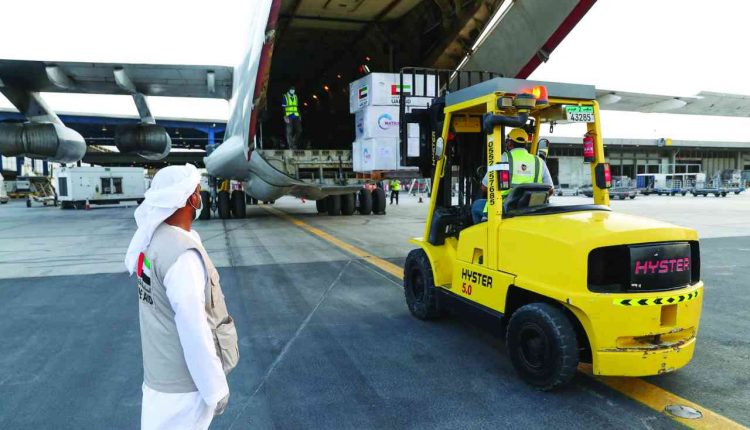 UAE relief South Sudan with 7.5 tons of medical aid
Yesterday, the United Arab Emirates sent an aid plane containing 7.5 tons of medical supplies and examination devices to South Sudan, and more than 7.5 thousand health care workers will benefit from it to enhance their efforts to contain the spread of the "COVID-19" virus.
UAE medical aid to South Sudan
Mohamed Salem Ahmed Musaad Al-Rashdi, United Arab Emirates ambassador to Ethiopia, and non-resident ambassador to South Sudan said: "The UAE attaches great importance to diversifying and expanding its relations base with all friendly countries, based on the principles of trust, mutual respect and mutual cooperation, which serves development efforts. Progress, security and peace for different peoples."
It is worth noting that, as of yesterday, the United Arab Emirates sent more than 1,100 tons of aid to more than 74 countries, which benefited about 1.1 million health care workers.
South Sudan and the UAE agree to strengthen bilateral ties
New York, October 3, 2019 – The last meeting before the spread of the tragedy of Morona around the world, where the First Vice President of South Sudan, Taban Deng and Minister of Foreign Affairs of the United Arab Emirates, Sheikh Abdullah bin Zayed Al Nahyan, discussed the prospects of strengthening bilateral relations between the two countries.
The two leaders met on the sidelines of the 74th session of the United Nations General Assembly, which was held in New York last week.
A statement indicated that the two leaders exchanged views on regional and international developments of common concern, as Sheikh Abdullah affirmed his government's intention to enhance cooperation with South Sudan on various fronts.
For his part, the Vice President of South Sudan praised the growing position that the United Arab Emirates enjoys at the regional and international levels, thanks to the "wise" leadership in various fields.
The meeting was attended by the Minister of Foreign Affairs of South Sudan, Ott Deng Akwil, and the Deputy Minister of Foreign Affairs and International Cooperation for Cultural Affairs in the Emirates, Omar Saif Ghobash.
In April, the President of South Sudan, Salva Kiir, visited the country in the Middle East and met with Abu Dhabi Crown Prince Sheikh Mohamed bin Zayed Al Nahyan to discuss bilateral relations.
During the meeting, reports indicated that the two leaders agreed to provide a grant of $ 10 million to include small and medium-sized companies in southern Sudan and signed agreements on foreign direct investment and visa waivers, among other things.
The United Arab Emirates was one of the countries that recognized South Sudan's independence in 2011.