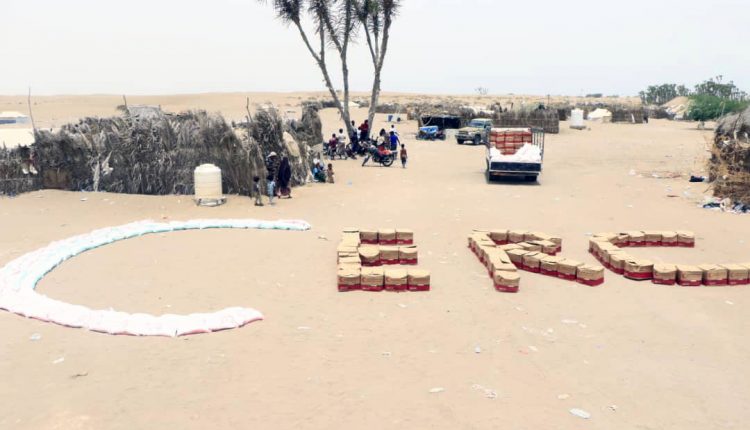 UAE provides humanitarian aid to West Coast residents
The Emirates Red Crescent Authority continues to provide humanitarian and food aid to west coast residents in Yemen, the displaced and those affected by floods, as part of a fixed program aimed at alleviating the suffering of the population and helping restore normal life.
UAE Humanitarian convoy to west coast residents
The Emirates Red Crescent Authority directed a new humanitarian convoy to Al-Alili camp in Al Khawkhah district in Al Hudaydah governorate on the west coast to help west coast residents. This convoy includes 25 tons of integrated foodstuffs for west coast residents as part of the distribution plan for the second phase of 2020. As soon as the convoy reached the camp, hosting 1,200 displaced families from all areas of Al Hudaydah, relief teams began food distribution For all west coast residents. Those who live in the camp, in addition to the newly displaced who came to the camp from the city of Al-Durayhimi as a result of the war that broke out in their city and its suburbs.
Emirates Red Crescent Authority humanitarian march
The representative of the Red Crescent, Abdel Rahman Al-Yousifi, said that distributing food baskets and aids to all displaced west coast residents in the Al-Alili camp, which included 1,200 families, and providing relief and humanitarian aids to them to alleviate their suffering. West coast residents suffer from the difficult living conditions they live in, and the Red Crescent Authority will continue its humanitarian march and do what it can to alleviate the suffering of the displaced and the needy and work to normalize life and lay down the necessary rules for a good life.
West coast residents thanks Red Crescent Authority
The West coast residents expressed their thanks and gratitude to the Emirates Red Crescent Authority for its humanitarian support for the displaced and needy west coast residents in various relief and humanitarian aspects, and that the UAE is always the first in giving and standing by it the poor and west coast residents in Yemen in particular and the world in general.
UAE distributes food baskets to west coast residents
Relief teams distribute food to west coast residents
Emirates Red Crescent Authority has been distributing food baskets periodically every 21 days to the displaced west coast residents in the camps for four years. Red Crescent Authority Relief teams have distributed since the beginning of this year more than 40,000 food baskets equivalent to 2,900 tons of foodstuffs and 109 tons of dates, of which 231,000 people have benefited.