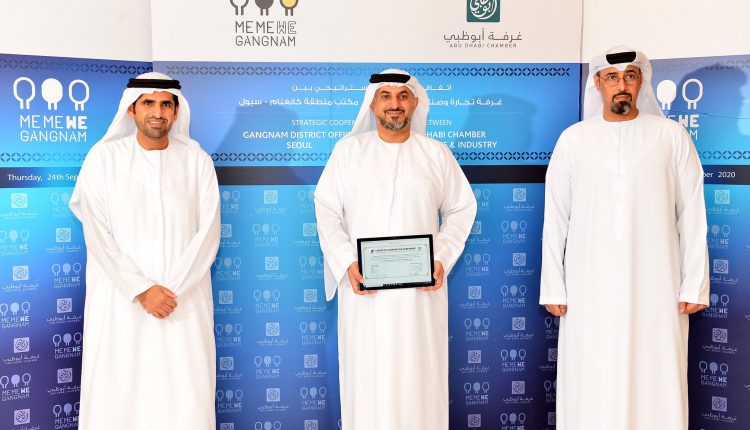 Abu Dhabi-Korea Healthcare Week with more than 500 companies and entrepreneurs
Deputy Director General of the Abu Dhabi Chamber of Commerce and Industry, Mr. Abdullah Ghurair Al Qubaisi, said: The organization of the Healthcare Week coincided with the 40 anniversary of diplomatic relations between the UAE and the friendly Republic of Korea, which witnessed many areas of cooperation in various field Sectors.
Healthcare Week Organization 
Abu Dhabi-Korea Healthcare Week, organized by the Abu Dhabi Chamber of Commerce and Industry (ADCCI) over a period of 4 days through visual communication technology, witnessed the participation of 500 health sector leaders, along with The Department of Health Abu Dhabi, Mubadala Healthcare, and The Abu Dhabi Health Services Company (SEHA), The Korea International Trade Association (KITA), The Gangnam District office, and the Ministry of Small and Medium Enterprises (SMEs) and Startups in South Korea.
The Healthcare Week Discussions
Abu Dhabi-Korea Healthcare Week discussions will focus on the investment opportunities in the healthcare sector and an increase in the cooperation between the companies operating in the sector in the two countries. The Week included a webinar on the investment opportunities, the healthcare market in the Emirate of Abu Dhabi. Healthcare Week aims to expand the channels of trade and cultural and tourism exchange between the UAE and the Republic of South Korea and this event comes on top of the strategic cooperation between the Abu Dhabi Chamber of Commerce and Industry (ADCCI) and the Gangnam Ju Region in Korea.
Al Qubaisi added: We are proud in the UAE that the year 2019 witnessed first place in 7 global indicators in health, which is reflected today in the volume of qualitative leaps and achievements made by the sector during the current period. The conditions for full preparation to face any urgent health challenges and the greatest evidence of this is what we are witnessing today in terms of professionalism in dealing with the COVID-19 epidemic, as the UAE competed with its capabilities in health care systems around it. He expressed his aspiration, during the Healthcare Week, for the meetings of health sector leaders from both sides to culminate in establishing fruitful partnerships and economic and investment cooperation between the two friendly countries.