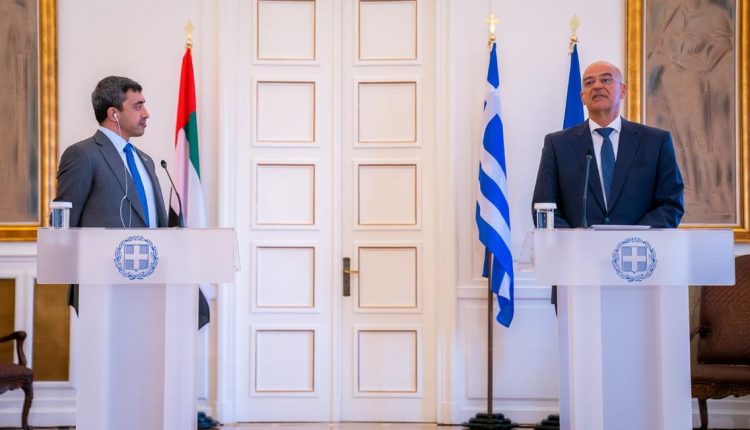 UAE, Greece, leading to a robust bilateral security partnership: Abdullah bin Zayed
H.H. The Minister of Foreign Affairs and International Relations, Sheikh Abdullah bin Zayed Al Nahyan, has affirmed that the leadership of the UAE and Greece looks forward to a strategic relationship based on a stable foundation of friendship and mutual respect.
The remarks were made by the top UAE diplomat in a joint statement after a meeting with Nikos Dendias, the Greek Minister for International Affairs.
For our fruitful and substantial discussions today, I would like to thank His Excellency Nikos Dendias. Our meeting was an opportunity to share views on the most relevant facets of our developing bilateral partnership, and on regional and international problems of common interest to our two friendly nations. Our friendship is based on the frequent holding of these discussions and visits. In the joint declaration, said Sheikh Abdullah.
Sheikh Abdullah bin Zayed reveals his opinion
Sheikh Abdullah added: "The ties between the UAE and Greece started in 1975, and the two nations have come a long way together since then, with the UAE striving to build these bilateral relations to be a model for the region's peace and development. Today, the relationship between our two nations encompasses a wide spectrum of cooperation in all fields and areas, including economics , politics, defense, etc."
The UAE and Greece have also made specific attempts to foster and improve international relations. Also contributing to a growing degree of trade between the two countries. By the end of 2019, our bilateral non-oil trade has achieved a total trade volume of US$ 450 million. We would like to further raise our bilateral trade volumes to a degree. That completely represents the high demand and the future potential.
Not only are our relationships improved in the fields of economics and commerce. Sheikh Abdullah bin Zayed continues. But also by our people-to – people links. More than 24,000 Greek visitors visited the UAE in 2019. The ever-increasing number of tourists traveling between our two countries is getting an assist by a thriving aviation industry. This is also including 14 weekly flights from our previous national carriers.