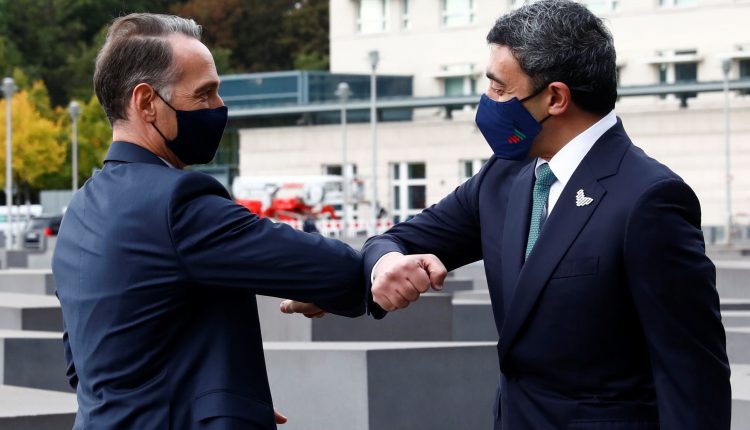 The UAE Foreign Minister meets with his Israeli counterpart
Today, Tuesday, three weeks after the two countries reached an agreement to normalise relations, UAE Foreign Minister Abdullah bin Zayed would visit his Israeli counterpart Gabi Ashkenazi for the first time in the German capital of Berlin.
His counterparts will be welcomed by German Foreign Minister Heiko Maas this afternoon. Maas thanked them for their confidence, adding, "It is a great privilege that the foreign ministers of Israel and the Emirates have selected Berlin as the venue for their historic meeting."
UAE Foreign Minister meets his Israeli counterpart
The German Foreign Minister said, "The brave peace deal is the first news that has been obtained in the Middle East for a long time and, at the same time, an opening for a new movement in the Israeli-Palestinian dialogue."
Maas shared his expectation that Berlin will have a strong basis for future moves on this route to be addressed.
The UAE, Bahrain and Israel reached an agreement to normalise relations between the three countries on the fifteenth of last month.
The meetings came after the signing, on September 15, by the foreign ministers of the UAE and Bahrain, of an agreement with Israeli Prime Minister Benjamin Netanyahu to develop diplomatic ties.
The signing came at the White House in Washington in the presence of US President Donald Trump.
UAE Minister of State for International Cooperation Meets the Israeli Intelligence Minister
The Israeli Makan Broadcasting Company announced that Intelligence Minister Eli Cohen had a telephone conversation with Reem Al-Hashemi, the UAE Minister of State for International Cooperation, to improve ties between the two sides.
"The Authority claimed that during the telephone call, the two parties discussed enhancing cooperation" in the areas of defence, cybersecurity, technology and artificial island development.
She clarified that this was the first interaction between Cohen and Al-Hashemi, who, after the signing of the peace agreement between the UAE and Israel on 15 September, is now the Director-General of the Executive Committee of Expo 2020 Dubai.
She pointed out that "in full swing" is the job of setting up the Israeli pavilion at "Expo 2020."