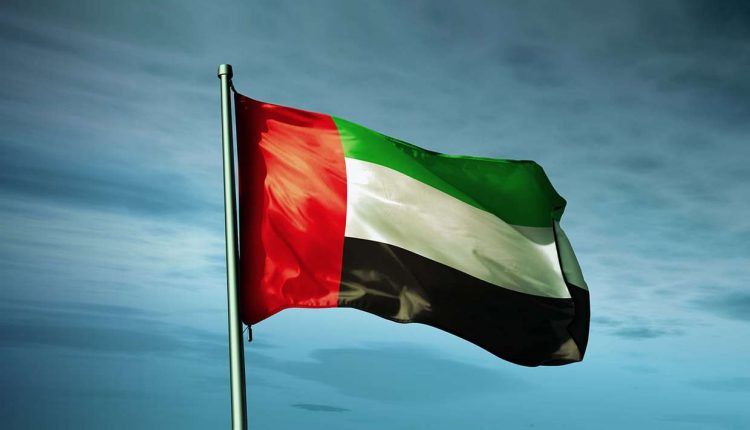 The United Arab Emirates celebrates the day of the third of November of each year, UAE Flag Day, which is one of the national occasions that embodies the meanings of unity and cohesion between Emirates, the love of the country and pride in its symbols.
Flag of the United Arab Emirates
UAE flag design
The design of the young Abdullah Mohammed Al-Mu'inah won the UAE flag design competition among six winning performances. Sheikh Zayed bin Sultan approved this design as a flag for the country on December 2, 1971. He announced it as an official flag with the occasion of the announcement of the establishment of the United Arab Emirates. As the UAE flag is like other flags Countries raise all buildings of each emirate an expression of loyalty and love. As well as, the flag includes the colours of Arab unity, which are red, green, black and white.
UAE Flag
The most important specifications of the UAE flag include:
Rectangular is divided into four rectangular sections into equal and parallel horizontal areas.
The higher rectangle includes green
The middle is white
The bottom is black
The vertical rectangle is in red from the left of the flag
Its length is twice the width of its width
In the case of installing the flag Vertically it becomes red up, green to the right.
The white colour symbolizes the works of righteousness, the good and the known. The black colour towards the battles. The green to the green lands. The red to the swords stained with the blood of enemies. The design derived from the verses of the poet Wasfi Al-Din Al-Hilli who described the colours of Arab unity in this house:
Our eggs are green vegetables
Black our facts red our issues
UAE Flag Law
Among the basic laws of the UAE flag are the following:
The state emblem in white only added to the head of the state's flag.
In the event the flag is halved, it lowered to the middle of the mast, where the upper and lower thirds in the mast remain empty and the flag is in the middle third of it.
Anyone who insults, drops, or burns the flag shall be punished with six months' imprisonment and a fine of 1,000 dirhams.
It remains raises throughout the week and throughout the year in all government buildings. In ministries, institutions, bodies, border centres, police and customs, airports and seaports. In addition, private buildings can raise it on holidays and national occasions.
It raises on all the country's embassies and consulates abroad, taking into account the rules of international custom and international courtesies.
It raises on all ships and national marine vessels, specifically at the stern of the ship. On the edge of the inclined arm of the ship or ship mast, and if there is any port, the flag is raised from sunrise to sunset. As well as during its entry and exit from the port.