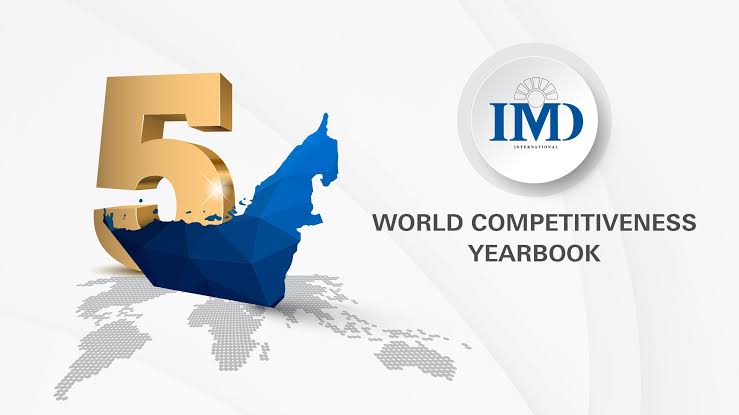 UAE First Regionally, Fifth Globally on IMD World Competitiveness 2019
The United Arab Emirates, UAE, has maintained its regional lead and ranked fifth globally in global competitiveness, according to the World Competitiveness Yearbook 2019, published by the Swiss-based International Institute for Management Development, IMD, today UAE enters top five for the first time, said the IMD World Competitiveness Rankings.
The United Arab Emirates – ranked 15th in 2016 – entered the top five for the first time. The UAE now ranks first globally for business efficiency, outshining other economies in areas such as productivity, digital transformation and entrepreneurship. The report noted that the UAE has outperformed advanced economies such as the Netherlands, Denmark and Sweden, rising 23 positions from last year's rankings.
Globally, it added, the UAE advanced two places to settle at the 5th position in the 2019 rankings while maintaining its lead in the Arabian Gulf and the Middle East and North Africa.
UAE's strongest performance is in the following indicators: Business Efficiency (1st), Government Efficiency (2nd), and held the first five ranks globally in the following sub-indicators.
Commenting the UAE's landmark achievements, His Highness Sheikh Mohammed bin Rashid Al Maktoum, Vice President, Prime Minister and Ruler of Dubai, said: 'We entered the competitiveness race ten years ago and the UAE is now leading the region and taking the fifth ranks globally. This competitiveness race has no finish line and dominance will be for those working hard, toiling and giving tirelessly. We will continue to developing our national competencies, our government services and our basic infrastructure. We want the best in the world for our people and residents." "Our hearts are filled with passion and tolerance our minds think, innovate and build we work together with our arms our love to our nation is our driving force sons and daughters of Zayed deserve to be at the helm," added His Highness Sheikh Mohammed bin Rashid.
The annual IMD World Competitiveness Yearbook analyses the capacity of 63 ranked countries to stimulate and sustain business competitiveness, using a composite competitiveness index based on four key factors: Economic Performance, Government Efficiency, Business Efficiency, and Infrastructure, and 20 sub-factors and 333 indicators that cover all the major areas of a nation's competitiveness in social, administrative, business economic topics.
The UAE took the lead in three factors: Government Efficiency, Business Efficiency, and Infrastructure.