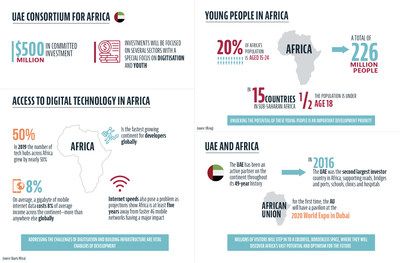 A UAE consortium for Africa worth 500 million dollars
The United Arab Emirates announced officially a $ 500 million investment, "THE UAE CONSORTIUM FOR ARICA" !  a new initiative aiming to contribute to the realization of an accelerated building vision for a new, more connected and empowering Africa.
Her Excellency Reem bint Ibrahim Al Hashemi, Minister The State for International Cooperation Affairs, Director General of the Expo 2020 Dubai office, announced  To the  representatives of the African Union member states in the  Ethiopian capital Addis Ababa,  that this investment will build human capital on the continent over the long term
Run, with a priority given to the digital fieds and youth.
http://www.lastdubai.com/الإمارات-تعلن-فى-أديس-أبابا-عن-كونسورت.html
Her Excellency said that this consortium will coordinate the commitment of the government of UAE and its private sector to help Africa, and will combine ambitious progress and resources that will support this ambition in a single entity whose goal is to support development and investment for a more optimistic future vision for Africa and Africans.
Reem Al Hashemi explained, "The United Arab Emirates believes that the biggest investment  should be made on human capital in the long run. We are committed to helping create a system in which startups and  entrepreneurs can thrive, unleash their potential, and young people can look forward with optimism towards their future.
Her Excellency said that focusing on digital transformation and youth will ensure that "Our young people and our talents can embrace the opportunities offered by the future.
The United Arab Emirates has been an active partner in the continent for the last 50 years, during what it invested billions in the African continent and in 2016, the UAE had become the second largest investor in Africa, the consortium for Africa will ensure more support to the African continent by providing A variety of projects including roads, bridges, ports, schools, clinics and Hospitals.
Expo 2020 Dubai is the first international expo to be held In the Middle East and is expected to witness 25 million visits
For a period of six months, from October 20, 2020 to April 10, 2021.
The UAE is the largest gathering of minds in the world, and welcomes intellectuals and creators to An inspiring platform that will define our future and reveal a host of opportunities available in Africa and for African countries.