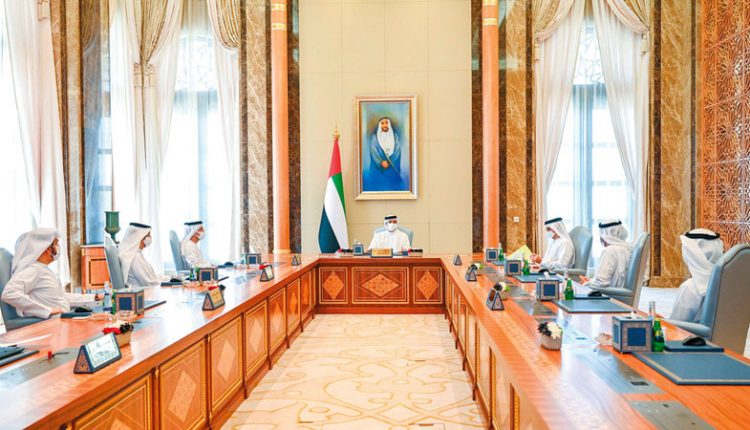 The UAE Central Bank reviews The Economic Support Scheme
The Board of Directors of the UAE Central Bank held its regular meeting today at Qasr Al Watan under the chairmanship of His Highness Sheikh Mansour bin Zayed Al Nahyan, Deputy Prime Minister and Minister of Presidential Affairs.
The UAE Central Bank meeting
His Excellency Abdulrahman Saleh Al Saleh, Vice Chairman of the Board of Directors, His Excellency Abdulhamid Mohammed Saeed Ahmed, the Governor of the Bank, and each of the Board members H.E Younis Haji Al Khouri , H.E. Khaled Mohammed Salem Balama, H.E. KHALID AHMED ALTAYER, and H.E Muhammad Al–Madawi Al–Rumaithi.
The UAE Central Bank investment policy
The investment policy of the Central Bank got the approval of the Board, including the technical specifications, the standard for the distribution of strategic assets, and the maximum risk budget, provided that the Risk Management and Compliance Department establishes the arrangements to accommodate and monitor the new investment policy, including the analysis of risks and performance, and that the Finance Department plan Accounting and custodial measures necessary to facilitate the new investment policy. The Reserves Management Department will also activate the investment policy in full contact with the Monetary and Reserves Committee "MRC", and set the implementation plan.
TESS Program
The Board of Directors of the Central Bank reviewed a report on the developments of The Targeted Economic Support Scheme (TESS), which limited the repercussions of the COVID-19 pandemic by easing funding and liquidity pressures and enhancing lending capacity. According to the latest data, loans to over 310,000 service customers have been postponed. Banking for individuals, which shows that there have benefited from the economic support plan, about 10,000 small and medium companies, and over 1,500 companies from the private sector.
Central Bank recommendations
The central Bank recommended a reassessment of developments and an extension of the program of targeted economic support plan "TESS" in the months of March and April 2021. The Central Bank reviewed a report on the developments of the targeted economic support plan "TESS", which reduced the repercussions of COVID-19 pandemic The meeting also recommended a plan for the gradual implementation of Basel standards in three stages.