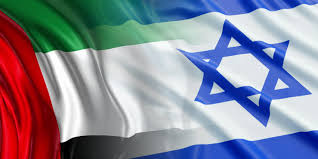 UAE decision to cancel boycott of Israel is step for peace
On Saturday evening, Tel Aviv welcomed the decision of the United Arab Emirates to cancel the boycott of Israel and the penalties resulting from it.
UAE issues a decree abolishing the boycott of Israel law
Israeli Foreign Minister Gabi Ashkenazi said:
The United Arab Emirate's decision to cancel the boycott of Israel is an important step towards peace.
This step of cancelling the UAE boycott of Israel will bring great economic and commercial achievements for both peoples while enhancing stability in the region.
The historic decision was taken by the United Arab Emirates leaders, Sheikh Khalifa bin Zayed Al Nahyan.
He calls on other countries to follow the courageous footsteps of the United Arab Emirates to achieve peace in the middle east.
Earlier on Saturday, Sheikh Khalifa bin Zayed Al Nahyan, President of the United Arab Emirates, issued a decree of a federal law abolishing the boycott of Israel and its penalties.
The new decree bears No. 4 of 2020 and by which Federal Law No. 15 of 1972 was repealed.
UAE Cancel boycott of Israel
UAE upcoming comprehensive plan to develop relations with Israel 
The United Arab Emirates seeks to expand diplomatic and commercial cooperation with Israel, by laying out a road map towards launching joint cooperation, leading to bilateral relations by stimulating economic growth and enhancing technological innovation.
In the wake of the abolition of the boycott of Israel Law for individuals and companies in the Emirates, agreements can be concluded with bodies or individuals residing there or belonging to it by their nationality or working for it or for its benefit wherever they are, on the commercial level, financial operations, or any other deal of whatever nature.
After the cancellation of the boycott of Israel, it is permitted to enter, exchange or possess Israeli goods, and products of all kinds in the United Arab Emirates and trade in them
The UAE & Israel peace agreement 
Since the announcement of the peace treaty between the UAE and Israel, international reactions welcomed the step, which was described as "courageous", and renewed hopes for the resumption of negotiations between the Palestinian Authority and Israel after a deadlock of 6 years.
On Thursday, August 13th, Sheikh Mohamed bin Zayed Al Nahyan, Crown Prince of Abu Dhabi and Deputy Supreme Commander of the United Arab Emirates Armed Forces, announced the agreement to stop Israel's annexation of the Palestinian territories, in a phone call with US President Donald Trump and Israeli Prime Minister Benjamin Netanyahu.