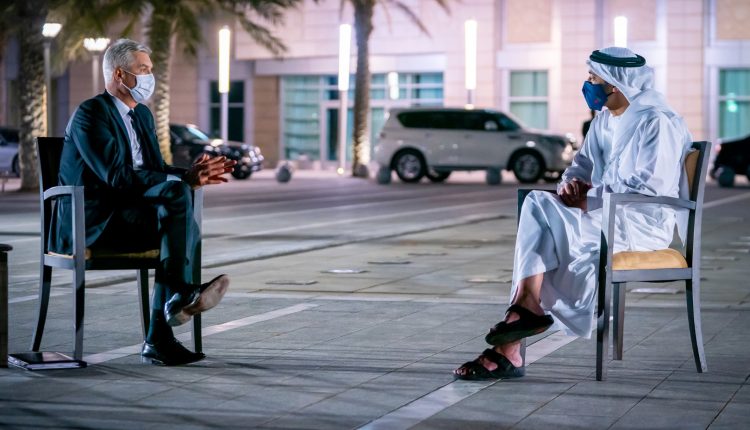 UAE and Slovakia discuss mutual defense cooperation relations
The Minister of Foreign Affairs and International Cooperation, His Highness Sheikh Abdullah bin Zayed Al Nahyan, received His Excellency Ivan Korčok, Minister of Foreign Affairs of Slovakia, in the presence of His Excellency Jaroslav Naď, the Slovak Minister of Defense, and his accompanying delegation and the meeting was also attended by the Director of the International Security Cooperation Department at the Ministry of Foreign Affairs and International Cooperation, His Excellency Salem Mohammed Al Zaabi, to discuss relations between the UAE and Slovakia.
UAE and Slovakia Discussion
During the meeting, they discussed ways to strengthen bilateral relations and develop areas of joint cooperation between the two countries in several fields, including investment, economic and defense, and several issues of common interest besides current developments and developments on the regional and international arenas.
His Highness and His Excellency Ivan Korčok also discussed the developments of the COVID-19 pandemic and the importance of cooperation between the two countries to exchange scientific and research experiences and supporting global efforts.
UAE and Slovakia Memorandum of Understanding
It is noteworthy that the UAE and Slovakia merged the pace of cooperation and understanding between them early, as these efforts resulted in the signing of two memoranda of understanding between them in April 2015, one of which stipulated the exchange of information and experiences and security cooperation to combat terrorism and fight crime in all its forms, and the second memorandum provided for the mutual recognition of driving licenses issued by both The two countries, which pushed the tourism trade and investment relations to more strength and flexibility together.
The UAE and Slovakia MOU aim to strengthen the friendship and cooperation existing between the two friendly countries in all fields and embodies the conviction of each of them in the importance of successful bilateral cooperation and strategic integration between them for the benefit of the two countries, and their awareness of the seriousness of international terrorism and threats to international peace and security.
The memorandum of understanding was signed by the Prime Minister and Minister of the Interior, Peter Pellegrini, who headed the recipient of Lieutenant General His Highness Sheikh Saif bin Zayed Al Nahyan and the high-level Emirati delegation, which included Major General Muhammed Murad Al Balushi, Chairman of the Armed Forces Supply Authority, and Major General Khalifa Hareb Al Khaili from the Ministry of Interior, Major General Dr. Ahmed Naser Al Raisi, Inspector General of the Ministry of Interior, Major General Sheikh Mohammed bin Tahnoun Al Nahyan, Director of Security and Ports Affairs Sector in Abu Dhabi Police, Brigadier Dr. Ibrahim Al Zaabi, Brigadier General Mohammed Hamid Dalmouj Al Dhaheri, Acting Secretary-General of the Office of His Highness Deputy Chairman Cabinet and Minister of Interior, along with several officers.