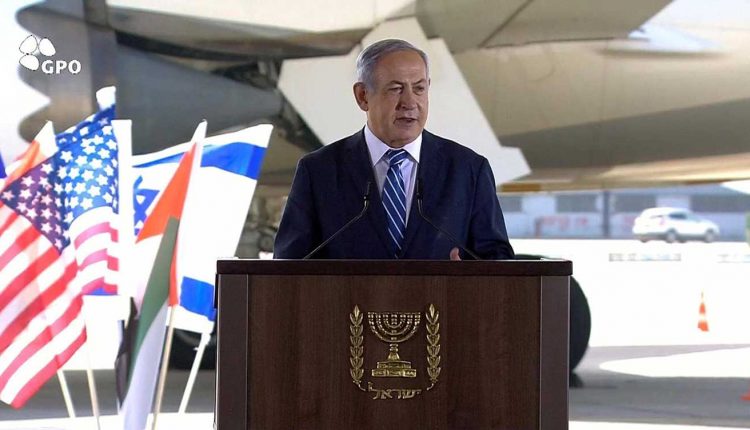 UAE and Israel sign 4 agreements, including visa exemption
On Tuesday, Israeli Prime Minister Benjamin Netanyahu welcomed the historic visit of the first Emirati government delegation to Israel, referring to the broad prospects for cooperation including the visa exemption after the two countries concluded a UAE and Israel peace agreement last September.
In a speech he delivered with the arrival of the Emirati delegation, Netanyahu said that agreements will be signed with the UAE during the visit, indicating that they will make the best for the people.
Netanyahu: The skies will be opened between Israel and the UAE, and visas will be canceled between the two countries
The Israeli Prime Minister affirmed that there would be cooperation with the UAE in a number of areas: "We will cooperate in investment in order to create an economic environment that benefits all citizens and business leaders, who are many in the UAE and Israel."
He added that the UAE & Israel would cooperate in technology and industry in order to serve the health and the environment: "All these things are wanted and deserved by the people of our two countries."
UAE and Israel visa exemption announcement
He pointed out that the cooperation will include the aviation field and exemption from visas, pointing out that: "Skies will be opened between the UAE & Israel, and visas will be canceled between the two countries."
It was also announced that a joint American-Emirati-Israeli fund for development worth $ 3 billion was announced.
UAE delegation's historic visit in Israel
Today, Tuesday, the first government delegation from the UAE arrived in Israel to discuss cooperation in the fields of investment, trade and technology.
Agreements for Emirati-Israeli cooperation will be signed during the delegation's historic visit.
The Emirati delegation includes
Minister of State for Financial Affairs Hamid Al Tayer,
Minister of Economy Obaid bin Touq
Assistant Minister of Foreign Affairs and International Cooperation for Cultural Affairs Omar Ghobash.
UAE & Israel sign four agreements in economic sectors
On this visit, which is the first for an Emirati delegation to Israel after the signing of the UAE and Israel peace agreement concluded last month between the two countries, the two sides will sign four agreements in various economic sectors.
Meanwhile, the US Secretary of the Treasury, Stephen Mnuchin, had confirmed that the peace treaty between the UAE & Israel would lay great foundations for the economic growth of all countries in the region during the next stage.