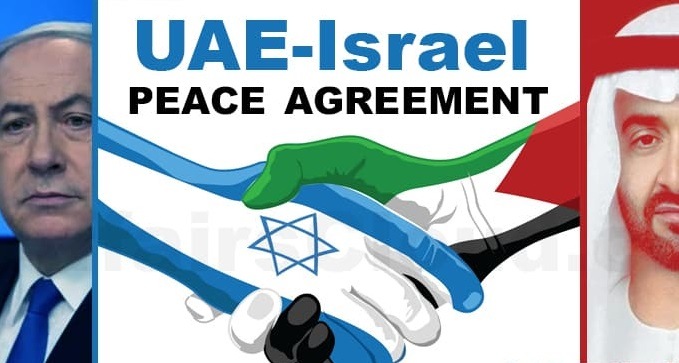 The UAE and Israel sign a peace agreement today
In a historic achievement paving the way for a new positive formulation for the Middle East region, the UAE and Israel today signed a peace treaty in the White House, is an important step through which the UAE was able to stop Israel's plans to annex the Palestinian territories, and the signature today comes amid the UAE's affirmation of its strong support for the two-state solution and the arrival of Israelis and Palestinians to A just and lasting solution to the conflict.
UAE and Israel peace agreement signing ceremony
A strategic shift that is reshaping the future of the region
On behalf of His Highness Sheikh Khalifa bin Zayed Al Nahyan, President of the State, may God protect him, and at the invitation of US President Donald Trump, His Highness Sheikh Abdullah bin Zayed Al Nahyan, Minister of Foreign Affairs and International Cooperation will participate today in Washington in signing the UAE and Israel treaty, in the presence of Benjamin Netanyahu is the Prime Minister of the State of Israel.
UAE and Israel peace treaty main provisions
In a speedy investigation of one of the main provisions of the UAE and Israel treaty, Israeli Prime Minister Benjamin Netanyahu gave his official approval to stop all construction work in the West Bank, amid international calls from the United States and France to resume direct negotiations between the Israelis and the Palestinians.
Her Excellency Reem Bint Ibrahim Al-Hashemi, Minister of State for International Cooperation, said in an interview with the American "CNN" network in Washington, that the UAE supports the two-state solution and seeks to put it on the table again and activate it. Her Excellency continued, "We certainly do all of this by continuing to preserve the Palestinian cause at the forefront and centre, and their right to a state and their right to a decent life."
The visions of Sheikh Mohamed bin Zayed
Intellectuals and diplomats valued the UAE's stances towards regional and international issues, and praised the visions of His Highness Sheikh Mohamed bin Zayed Al Nahyan, Crown Prince of Abu Dhabi and Deputy Supreme Commander of the Armed Forces, in spreading peace and preserving Arab rights in general and Palestinian rights in particular, and affirmed that His Highness is a global statesman. To be able to lead the transformation in the region due to the UAE and Israel peace agreement.