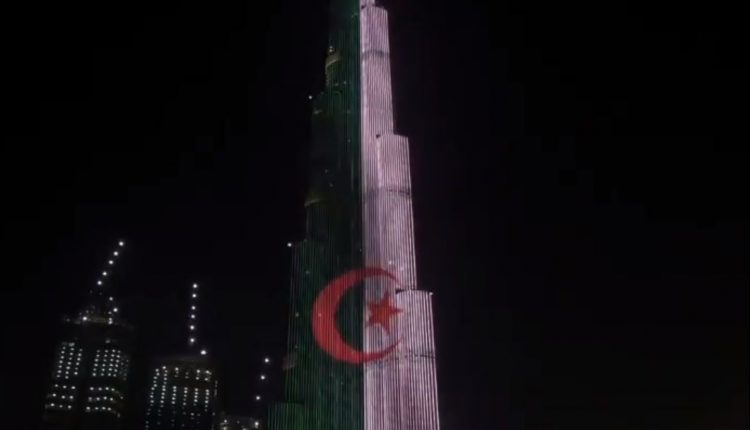 Burj Khalifa lights with Algeria's colors in the National Day of Algeria
On Sunday evening, in recognition and celebration of its National Day, the Burj Khalifa in Dubai was illuminated with the colors of the Algerian flag.
The tallest building in the world showed the white, green and red flag of Algeria in a show of brotherhood and friendship between the two nations and their people.
The National Day of Algeria
Also, The National Oil Company of Abu Dhabi, ADNOC, honored Algeria 's headquarters by lighting up the country's flag on Sunday evening to mark its National Day.
High-rise building facades lit by the colors of the Algerian flag in a symbolic exchange of joy with the people of Algeria, marking the National Day of their country and representing the fraternal ties between the two countries and their peoples.
The relations between UAE & Algeria
In the start of 2020, UAE Foreign Minister Sheikh Abdullah bin Zayed said a new era of closer relations between the UAE and Algeria has begun.
We now have a new chapter in Algerian affairs. "Sheikh Abdullah said during a press conference with his Algerian counterpart Sabri Boukadoum in Algiers," We seek to improve trade ties that will represent positive improvements for both our nations and the region.
We are thankful for the relations we have with the government of Algeria, "Sheikh Abdullah said, adding that he wants to reinforce ties in all fields between the two nations."
In addition, he extended an invitation to President Abdelmadjid Tebboune of Algeria to visit the UAE.
The UAE is home, Sheikh Abdullah said, to about 30,000 Algerian expats.
The visit of Sheikh Abdullah presents "an opportunity to exchange views on common regional concerns," said a statement by the Algerian Foreign Ministry.
The relations between Algeria and the UAE continues to thrive and get better as time passes. We hope to see more of this in the future.