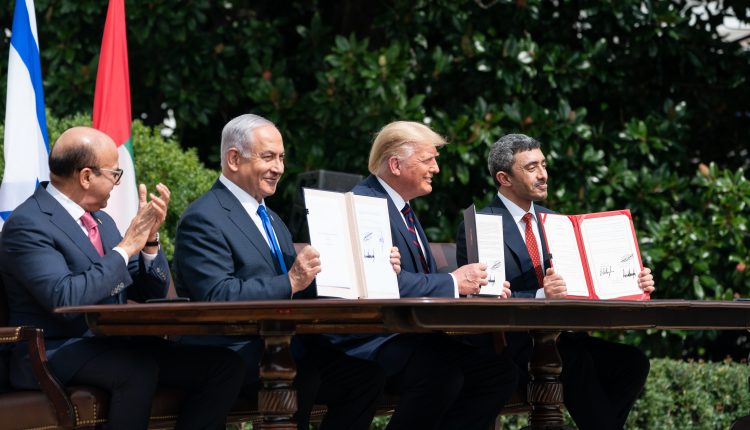 UAE affirms the importance of the "Abrahamic Agreement" 
In its written comment on the open debate held by the United Nations Security Council on 'The situation in the Middle East, particularly the issue of Palestine,' the United Arab Emirates emphasized the importance of taking the opportunity presented by the Abrahamic Historical Peace Agreement to break the deadlock in the peace process and to restore direct negotiations between the two sides.
UAE states the results of the Abrahamic Agreement
The UAE reiterated that, on the basis of the applicable United Nations resolutions, the Madrid Terms of Reference, the Arab Peace Plan and the Roadmap drawn up by the Quartet, it has been and will still be committed to the two-state solution and the creation of an independent Palestinian state on the 1967 boundaries with East Jerusalem as its capital.
In the declaration, the UAE shared its confidence in the importance of de-escalation, opening up contact networks and improving diplomacy as fundamental foundations for resolving current and previous conflicts and avoiding any new threats in the region from emerging, emphasizing the importance of rethinking the previous strategy in order to resolve the current stalemate and create peace and prosperity in the Middle East.
The Abrahamic Agreement is good for UAE and all middle east
The statement stressed that the Palestinian-Israeli dispute remained at the center of the conflicts in our area, amid the new conflicts plaguing the area, from Yemen to Syria. In this sense, on September 15, 2020, the UAE signed, under the auspices of the United States, the Abrahamic Peace Agreement with the State of Israel. This landmark decision leads to repeated appeals from the international community to maintain the two-state solution, including several member states involved in today 's dialogue. By making the annexation end.
The statement stated that the UAE agrees that this treaty, along with the declaration of peace, collaboration and positive political and friendly relations between the Kingdom of Bahrain and the State of Israel, offers an incentive for the country to shift toward stability and development while the Security Council seeks to achieve international peace and security.
The declaration called on the international community to be consistent in its support for the Palestinian people , especially during the Covid-19 pandemic, emphasizing the determination of the UAE to continue helping the Palestinian people, as it offered more than $837 million in assistance to the Palestinian people and to UNRWA between 2013 and 2020. During its current chairmanship of the UNRWA Advisory Committee, the UAE will aim to establish an approach to the implementation of aid plans set out in the UAE Aid Strategy and to match them with the mandate of UNRWA and its medium-term strategy for the 2016-2021 period.