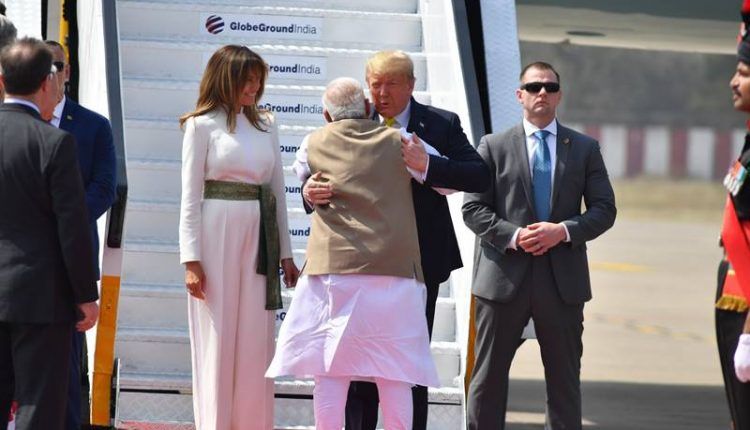 Trump's first visit to India as president
On Monday morning, US President Donald Trump arrived in India on his first official visit to this country for which he was very much prepared. Washington and New Delhi seek to overcome their trade dispute over decades.
Today … Trump is making his first official visit to India
The US President's plane landed at 6:05 GMT in Ahmedabad International Airport (Gujarat, west).
Where he is meeting with the Indian Prime Minister, Narendra Modi.
He then heads to Agra to visit the Taj Mahal in the absence of the sun before heading to New Delhi.
Finally, he will hold bilateral meetings on Tuesday between American and Indian officials.
Trump arrives in India for a two-day visit
Trump's visit lasts two days and with his wife Melania, Trump is scheduled to attend a rally in the city's huge stadium, the political bastion of Indian Prime Minister Narendra Modi.
What will Trump's visit do for US-India ties?
The aims of Trump's visit
President Trump's reception celebrations
Crowds lined up outside the stadium to greet the US president even before his arrival.
Trump's reception will also include a roadshow and a reception at a cricket stadium, with a capacity of 110,000 attendees, and is said to be the largest in the world.
Eventually, Moody forged a personal relationship with Trump and was doing everything in his power to make the US president's visit a success, despite problems facing a trade agreement Washington seeks to conclude.
Trump's Tweet
Before his arrival, Trump wrote in a tweet in Hindi, saying:
"We are ready to come to India … We are on our way … and We will meet everyone after a few hours."
हम भारत आने के लिए तत्पर हैं । हम रास्ते में हैँ, कुछ ही घंटों में हम सबसे मिलेंगे!

— Donald J. Trump (@realDonaldTrump) February 24, 2020
प्रथम महिला और मैं इस देश के हर नागरिक को एक सन्देश देने के लिए दुनिया का 8000 मील का चक्कर लगा कर यहां आये हैं l अमेरिका भारत को  प्रेम करता है – अमेरिका भारत का सम्मान करता है – और
अमरीका के लोग हमेशा भारत के लोगों के सच्चे और निष्ठावान दोस्त रहेंगे l https://t.co/1yOmQOEnXE

— Donald J. Trump (@realDonaldTrump) February 24, 2020