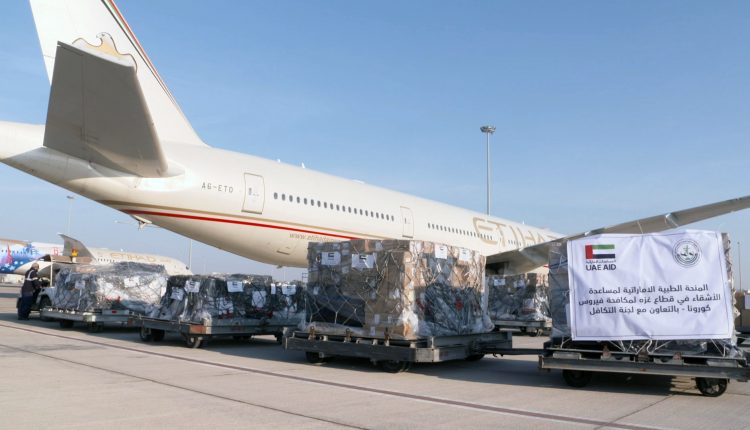 Medical Aid Plane was sent to support Gaza Strip in fighting COVID-19
The United Arab Emirates sent a third medical aid plane containing 14.4 tons of medical supplies and examination devices to the brothers in the Gaza Strip, in cooperation with the Solidarity Committee in the sector, benefiting over 14,000 health care workers, to enhance their efforts to contain the spread novel coronavirus.
Medical Aid Plane to Gaza Strip
The dispatch of this medical aid is part of the great and continuous support provided by the UAE to enhance the efforts of the Palestinian brothers in facing the pandemic, as it sent its first shipment of aid and medical supplies last May, and continued sending medical aid during the past eight months, which amounted to 22 tons to protect medical staff and medical workers.
It is noteworthy that this aid is part of the United Arab Emirates's commitment to providing continuous support to the Palestinian people. The UAE, which is one of the largest donors to The United Nations Relief and Works Agency (UNRWA), contributed more than $187 million in the period from 2015 to 2020 to fund various sectors in the occupied Palestinian territories, and provided over 1675 tons of aid to over 120 countries, benefiting over 1.6 million medical workers.
UAE Medical Aid Plane to Tajikistan
The United Arab Emirates government sent a 2nd medical aid plane carrying 12 metric tons of medical supplies and testing kits to Tajikistan, which assisted approximately 12,000 medical professionals as they work to contain the COVID-19 endemic.
Ammar Al-Breiki, said: "The UAE supports development in brotherly and friendly countries based on its leading and humanitarian role in the health field, and sent a medical aid plane carrying 10.5 metric tons of supplies as part of efforts to Tajikistan to strengthen bilateral relations between both UAE and Tajikistan that contribute to efforts by authorities in Tajikistan to combat COVID-19 endemic by protecting frontline workers."
United Arab Emirates has responded to the COVID-19 endemic by providing over 1,498 metric tons of aid to 118 countries, supporting over 1.5 million medical professionals.