The United Arab Emirates (UAE) has opened a new hospital in Seychelles.
Seychelles is the smallest country in Africa as well as the least populated sovereign African country, it is located in the Indian Ocean.
Moreover, the hospital is located on the island of La Digue.
Also it will serve the local population of about 3,000 people.
It has modern medical facilities and will provide a range of services.
Including general medicine, surgery, and maternity care.
The following people attended the opening ceremony:
The Seychelles' president, Wavel Ramkalawan
Hamoud Abdullah Al Junaibi, Secretary-General of the UAE Red Crescent Authority
Ahmed Al Neyadi, Charge d'Affaires of the UAE Embassy in Victoria
Peggy Vidot, Minister of Health of Seychelles
Sylvester Radegonde, Minister of Foreign Affairs and Tourism
Senior officials from the Ministry of Health of Seychelles and the UAE Red Crescent Authority
Moreover, Ramkalawan thanked the UAE for its generous donation, which he said would have a "positive impact" on the lives of the people of La Digue.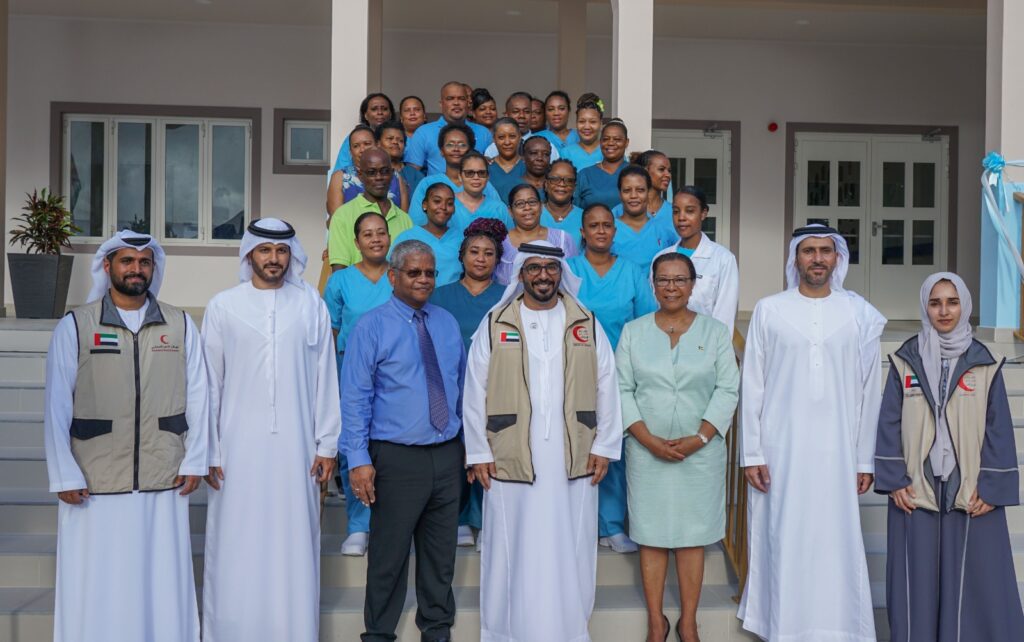 Furthermore, the UAE has a long history of providing humanitarian aid to the Seychelles.
During recent years, the UAE has donated food, medicine, and other essential supplies to the country.
In fact the new hospital is the latest example of the UAE's commitment to helping the people of the Seychelles.
Here are some additional details about the hospital:
It is the first specialized hospital in La Digue.
It has several units, including a general medicine clinic, a dental clinic, an eye clinic, and a maternity ward.
It also has a laboratory, a pharmacy, and a radiology department.
The hospital will be staffed by doctors, nurses, and other medical professionals from the UAE and the Seychelles.
Furthermore, the opening of the new hospital is a significant milestone for the people of La Digue.
Since it will provide them with access to quality healthcare, which will improve their quality of life.
The hospital is also a symbol of the strong ties between the United Arab Emirates and the Seychelles..
Read More:
Khalifa Bin Zayed Foundation Health Projects Around the World.
Zayed bin Sultan Foundation Celebrating 31st anniversary.
Sustainable Human Heritage – The Craft of "Sadou"
Hamdan bin Zayed Speech on International Humanitarian Day.
Dubai Intl Chamber Supports 100 Companies to Expand Globally.