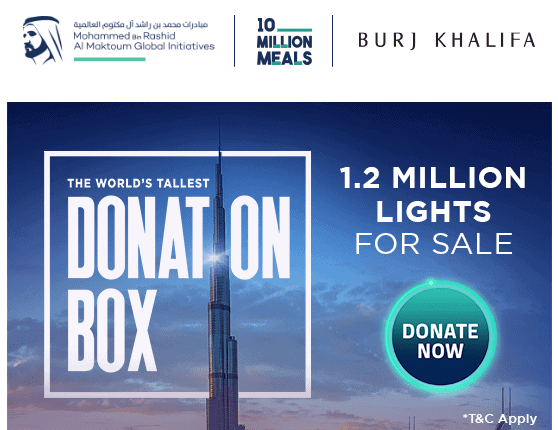 The Tallest Donation Fund in the World
The United Arab Emirates established the longest donation fund in the world. It is an initiative to collect donations from individuals and companies all over the world for all families affected by the repercussions of the Coronavirus in the UAE. 
Burj Khalifa illuminates a light whenever a new donation is received, which turns it into the "longest donation fund in the world".  And within only four days, Burj Khalifa shone brightly with 393,000 lights that will give 393,000 meals to the "10 Million Meals" campaign.

More than 100 individuals from the sons of the Emirates and from different nationalities contributed to the donation that provides a meal for every light purchased for 10 dirhams. Donations lit up 46 floors of Burj Khalifa with the goal of shining 1.2 million lights on the façade of the tallest building in the world in a message of solidarity and hope for the severely affected communities of the epidemic around the world. 
The world's longest donation fund enables companies, entities and the public to purchase Burj Khalifa lights, for 10 dirhams each, to provide meals to those in need.