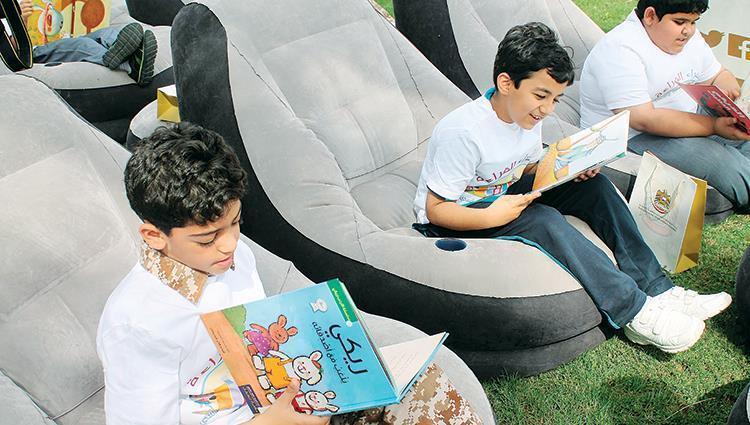 The "Month of Reading" kicks off at the UAE level
Today begins the UAE activities of the National Reading Month nationwide in implementation of the Cabinet's decision that sets March for each year as a month for reading.
The "Month of Reading" kicks off at the UAE level
The slogan of the "Month of Reading"
The Ministry of Culture and Community Development chose the slogan "the pleasure of reading" for the month of reading this year.
It seeks to motivate and encourage the various authorities in the country.
In order to launch and organize initiatives and events for reading and link them to pleasure.
Adopt targeted initiatives that contribute to enhancing the value and role of reading as a source of pleasure.
The reader feels, and to establish it as an element Important in the lives of members of the Emirates community.
Sheikh Mohammed bin Rashid Al Maktoum reading initiatives
The month of reading is an annual occasion during which various governmental and private institutions or educational and cultural institutions participate.
Through a number of initiatives and programs that contribute to:
Building a readership armed with science and knowledge.
Capable of leading the development process in the country.
His Highness Sheikh Mohammed bin Rashid Al Maktoum, Vice President and Prime Minister and Ruler of Dubai, "May God bless him". Adopted the national reading strategy until 2026, which includes 30 major national trends in the sectors of education, health, culture, community development, media, and content.
In addition, it was announced that the cabinet would allocate a month each year to read and distribute a knowledge bag for all citizens born in the UAE.
With the aim of:
Enriching the national reading content
Reviewing publishing policies in the country
Finally, Enhance and support citizen publishers
The first "Month of Reading" initiative in the world
In an initiative considered the first in the world… His Highness the President of the State issued on October 31, 2016.
The first law of its kind for reading that sets legislative frameworks, executive programs, and specific government responsibilities.
In order to consolidate the value of reading in the country in a sustainable way in an unprecedented cultural and legislative initiative in the region.
In addition to supporting the development of Ras Human money.
Contributing to:
Building mental and cognitive abilities
Supporting national intellectual production
Building knowledge societies in the country
Eventually, The law constitutes leadership on more than one level … as it makes reading a fixed right and available for all, which is devoted from birth through the provision of 3 knowledge bags that cover the needs of the child from breastfeeding until four years of age by one bag every two years.