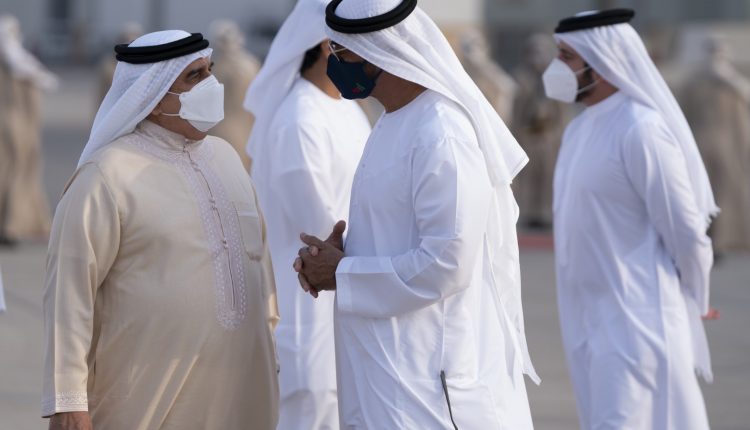 The King of Bahrain arrives to the United Arab Emirates
Crown Prince of Abu Dhabi and Deputy Supreme Commander of the Armed Forces, His Highness Sheikh Mohamed bin Zayed bin Sultan Al Nahyan, received His Majesty King Hamad bin Isa Al Khalifa, Monarch of the Kingdom of Bahrain, accompanied by the representative of His Majesty the King for humanitarian work and youth affairs, His Highness Shaikh Nasser bin Hamad Al Khalifa upon his arrival at the presidential airport in Abu Dhabi.
Receiving the King of Bahrain
He was also received by Deputy Chairman of the Executive Council of the Emirate of Abu Dhabi, His Highness Sheikh Hazza bin Zayed Al Nahyan, Chairman of the Board of Trustees of the Zayed bin Sultan Al Nahyan Foundation for Charitable and Humanitarian Works, and Deputy Prime Minister The Minister of Interior, Lieutenant General His Highness Sheikh Saif bin Zayed Al Nahyan, His Highness Sheikh Theyab bin Mohammed bin Zayed Al Nahyan, Chairman of the Board of Directors of the Zayed Higher Organization for People of Determination, His Highness Sheikh Khalid bin Mohammed bin Zayed Al Nahyan, and the UAE ambassador to the Kingdom of Bahrain, His Excellency Sheikh Sultan bin Hamdan bin Zayed Al-Nahyan.
His Highness welcomed His Majesty King Hamad bin Isa Al Khalifa, Monarch of the Kingdom of Bahrain, expressing his sincere condolences and sincere sympathy to His Majesty on the death of Prince Khalifa bin Salman Al Khalifa asking the Almighty to bless the deceased with the breadth of his mercy and forgiveness, and dwell in his spaciousness and to inspire the honorable Al Khalifa family of patience and solace.
The UAE and the Kingdom of Bahrain
Relations
The UAE is linked with the Kingdom of Bahrain by historical relations that extend their roots for many decades, helped in the growth and development of the common principles and visions that unite the two brotherly countries, which are the relations whose specificity stems from the ties of kinship and the intimate ties and fraternal relations distinguished between their leaders, besides the common bonds between the two countries. Whether in the framework of the Gulf Cooperation Council, or in the Arab and Islamic spheres, it was not surprising that the UAE, and by extension of its previous humanitarian and development positions, supported Bahrain with all its political, security and economic capabilities in various issues and trends.
These relations are of great importance considering the two countries enjoying political weight and a distinguished geographical and strategic position at the regional and global levels, and their adoption of a balanced and moderate foreign policy, and is among the leading models at the regional level in the areas of democracy and human rights and implementing ambitious policies for reform, development, modernization, and the consecration of the state of institutions and law.