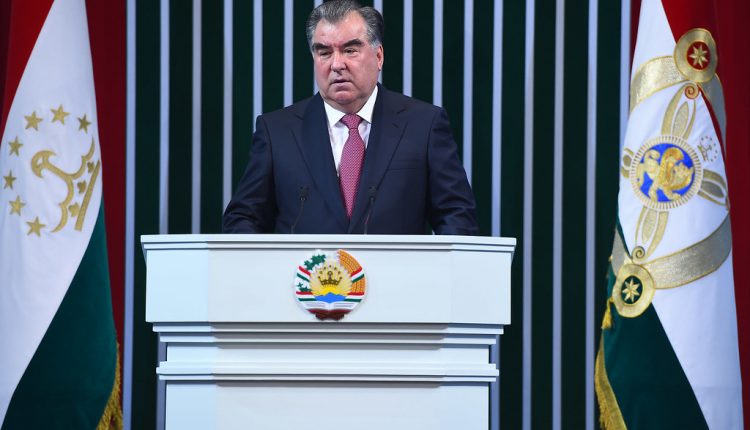 UAE leaders congratulate Tajikistan's president Emomali Rahmon
His Majesty Sheikh Khalifa bin Zayed Al Nahyan sent a letter of congratulations to Tajikistan's President Emomali Rahmon on his re-election for another term in office.
All of UAE congratulate Tajikistan's president
Similar messages were sent to the President of Tajikistan by His Highness Sheikh Mohammed bin Rashid Al Maktoum, Vice President, Prime Minister and Ruler of Dubai, and by His Highness Sheikh Mohamed bin Zayed Al Nahyan, Crown Prince of Abu Dhabi and Deputy Supreme Commander of the UAE Armed Forces.
Preliminary findings from the Central Election Commission of Tajikistan (CEC) and the country's referendum indicate that Emomali Rahmon is well ahead of the other contenders in the presidential election yesterday and has won the election for the fifth time.
The Independent Election Commission (IEC) of the world said the presidential election was won by Emomali Rahmon.
Reports indicate that in Sunday's election, 4,022,176 individuals cast their ballots.
Approximately 90.92 percent of voters voted for Rahmon, who won another seven-year term to lead Tajikistan.
Since 1992, Emomali Rahmon has been in control, having won four consecutive presidential elections.
Parliament granted Rahmon the title of Leader of the Country in December 2015 to further cement his supremacy, giving him long-term immunity from prosecution.
Strong relations between the UAE & Tajikistan
Earlier last week, The UAE sent to Tajikistan a second aid aircraft carrying 12 metric tonnes of medical supplies and research kits. About 12,000 medical practitioners will be helped by this assistance when they work to suppress the infection.
Ammar Al-Breiki, Charge d'Affaires at the Embassy of the UAE in Kazakhstan, commented on the aid delivery: "The UAE supports development in fraternal and friendly countries on the basis of its leadership and humanitarian position in this region, especially in times of crisis."
"Last May, the UAE sent a medical aid aircraft to Tajikistan. It was carrying 10,5 metric tonnes of supplies. This was a part of efforts to improve bilateral relations between the two countries and to contribute to the efforts of the authorities in Tajikistan to fight COVID-19 by providing frontline staff with security," he said.