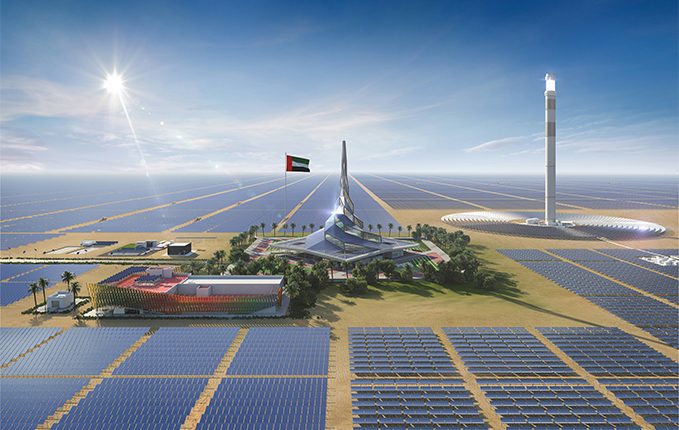 Inauguration of Solar Park Phase 3 by Mohammed bin Rashid
Dubai Energy and Water Authority, DEWA's Innovation Center, and the 800 MW third phase of the Mohammed bin Rashid Al Maktoum Solar Park, the largest single-site solar park in the world, have been inaugurated by His Highness Sheikh Mohammed bin Rashid Al Maktoum, Vice President, Prime Minister and Ruler of Dubai. The Park has an investment of AED50 billion with a projected total capacity of 5,000MW by 2030.
Solar Park : W
orld's largest single-site investment facility
His Highness also toured the site of the solar park's 950MW fourth phase, the world's largest Concentrated Solar Power, CSP, plant, which is being built using the Independent Power Producer, IPP, model for an investment of AED15.78 billion. CSP and photovoltaic solar panels are integrated in the fourth phase of the Mohammed bin Rashid Al Maktoum Solar Park. It's also the world's largest single-site investment facility. The project contains the largest solar power tower in the world, which will be 262.44 meters high.
Saeed Mohammed Al Tayer, MD & CEO of DEWA, hosted Sheikh Mohammed bin Rashid Al Maktoum
Al Tayer briefed Sheikh Mohammed about the Innovation Center, a global center for research in solar and clean technology that will contribute to defining the global future of sustainable energy. The Center houses an auditorium for solar panels, clean energies and other sustainability initiatives activities, workshops, and training programs. The four-storey building is 88 meters high, covering 4,355 square meters. His Highness visited the exhibits of the Research Center that concentrate on solar power and its different innovations.
Via the Innovation Center, DEWA also aims to foster clean and green energy innovation and ingenuity. Also to promote sustainability, grow Emirati talent and improve the competitive edge of the country in this field. The Dubai Renewable Energy Plan 2050, which seeks to diversify the energy mix and provide 75% of Dubai's overall power potential from clean energy sources by 2050, will be funded by solar studies from the Innovation Center.
During the tour, Sheikh Mohammed inaugurated the 800MW third stage of the Solar Park. In collaboration with a consortium led by Abu Dhabi Future Energy Firm. Masdar and EDF Group, through its subsidiary EDF Energies Nouvelles. DEWA developed the third stage using the IPP model with an investment of AED3.47 billion.
For over 240,000 households in Dubai, the third phase offers renewable electricity. In the Middle East and North Africa region, the facility is the first of its kind to use single axis solar monitoring to improve the production of electricity. It also uses other innovative technology to improve the productivity of the facility, including photovoltaic panel cleaning robots.