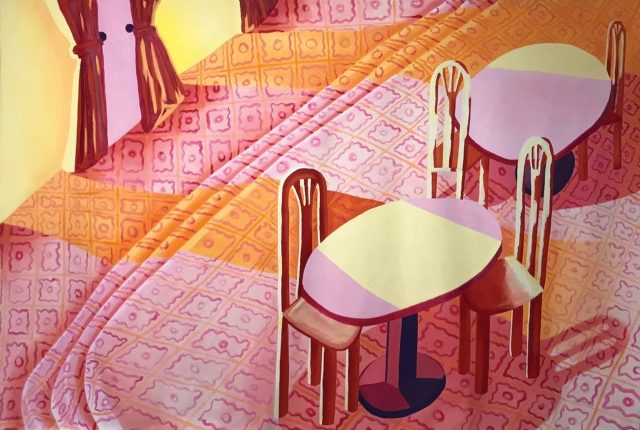 Society & Art Criticism Exhibition opens its 7th session for Emerging Artists
Salama Bint Hamdan Al Nahyan Scholarship for Emerging Artists 20/2019, the seventh batch announced the activities of the seventh session of the Society & Art Criticism Exhibition, that was organized by Salama Bint Hamdan Al Nahyan Foundation
Society & Art Criticism Exhibition Grant
The exhibition celebrates the works of 16 young female artists and artists from the United Arab Emirates after a year-long grant program in partnership with Rhode Island College of Design and ends December 20.
The exhibition highlights works that deal with the public and private worlds and embraces the idiosyncrasy of place and urban concepts in our present-day world as scholarship artists draw their ideas from diverse backgrounds in art, design, sculpture, performance, literature, and culture.
Society & Art Criticism Exhibition Participants
The exhibition displays the art works of Abdulla Al Neyadi (Emirates), Aisha Al Ahmadi (Emirates), Arwa Najm (Emirates), Athob Al-Busaili (Kuwait), Faisal Al-Malek (Palestine), Fatima Al Ali (Emirates), Maitha Hamdan (Emirates), Hessa Al-Zarouni (Emirates), Malak Al-Ghwail (Libya), Muhammad Al-Shaibani (Emirates), Moza Al Hamrani (Emirates), Nabil Yahya (Libya), Sarah Ahly (Emirates), Sarah Al Mehairi (Emirates), Sari Al-Taher (Palestine / Philippines), Zainab Abdulaziz (Sudan).
The exhibition includes virtual artistic dialogues
The Society & Art Criticism Exhibition come on the heels of a virtual online art dialogue program that begins on November 16 and revolves around the exhibition's artists and their work, with the participation of Sarah Al Mehairi, Sari Al Taher, Freelance Illustrator, and Graphic Designer, and Faisal Al Malek, and directed by Nadine Khalil, editor and writer, and Nasser Alzayani, Bahraini-American artist.
The artists talk about the works they completed during the grant period, besides their expertise and artistic experiences under the auspices of the Foundation.
The technical talks program will be followed up with an episode entitled "Process and Repetition," which will be held on November 30, and on December 14, an episode entitled Poetic Performance.