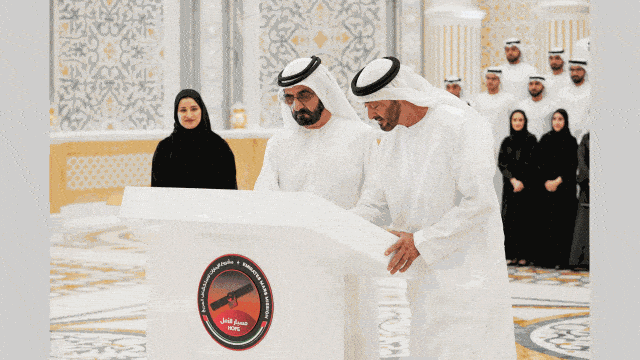 Signing the probe of hope and motivations
H.H Mohammed bin Rashid, Sheikh Mohammed bin Zayed Al Nahyan, confirmed that the UAE, led by His Highness Sheikh Khalifa bin Zayed Al Nahyan, President of the State, has become A centre for the resumption of civilization in the Arab world, an inspiring story for future generations, and a message of hope for the region and the world with a better future.
This came when their Highness signed the last piece of the Hope Probe in Al-Watan Palace in  which constitutes the last external part of the probe, and bears the names of His Highnesses members of the Supreme Council of the Federation rulers of the Emirates and the signatures of their Highness alongside the signatures of His Highness the Crown Prince and adorned with the phrase "the strength of hope shortens the distance Between Earth and Sky ", in an expression of the sublime human message carried by the Emirates of the future of man and the world.
His Highness stated: "The accomplishment of the analysis of hope establishes a message for the citizens and residents of the UAE and for our brothers in the Arab world and our friends around the world that faith in young people and investing in their capabilities and capabilities is the winning bet for every country that sets its sights on making the future and placing its distinctive mark in The march of human civilization .. Today we celebrate the elite of Emirati scientists, scientists and engineers who raise our heads high to embrace space.
His Highness, Vice President of the State added: "The probe of hope is a realistic embodiment of the aspiration of Zayed, may God have mercy on him, to reach space, and a new step in the march of preparation for the next fifty years, whose end we will celebrate by achieving the goals of the UAE centenary and bringing our country to the first positions globally in various fields. The probe of hope A vivid translation of the power of hope in inspiring and motivating generations to make a positive difference in people's lives. The probe of hope is the focus of the UAE's mission to strengthen human partnership in the outputs of research and scientific exploration and employ them for the good of humanity."