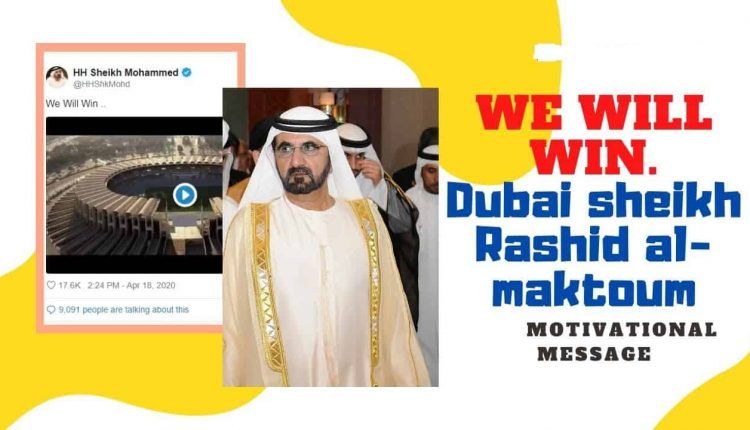 Sheikh Mohammed sends a message to the people: "We will win!"
Prime Minister of the United Arab Emirates, Sheikh Mohammed bin Rashid Al Maktoum shared an inspiring video on Twitter. The video shows uplifting footage of key workers in the Coronavirus (COVID-19) outbreak. The message is clear, "We will win".
One team to support … We will win
It's a difficult time for sports fans. Nobody is playing. That's how the video tweeted by Sheikh Mohammed begins. He shared the video on Saturday with his 10 million Twitter followers. The video is very popular and gained over 500,000 views. In addition to receiving over 7,000 retweets and 17,000 likes.
Now we have one united team to support though. In other words, it's no longer about sports. Now it's about supporting the key workers who risk their lives every day to keep us safe.
The inspiring video clip lasts just over a minute. Above all, it shares a strong message of solidarity. Our new most valuable players are emergency workers. We may be living through uncertain times, but we will win.
Supporting frontline workers during the pandemic.
Healthcare workers in the UAE put themselves at risk every day. The people of the Emirates are eternally grateful to them. Numerous efforts are in place to thank the brave key workers for all their sacrifices in this difficult time. In short, without the hard work of these brave people, the Coronavirus situation would be much worse than it is.
People flocked to their balconies to clap and sing in support of healthcare workers. Singing the National Anthem from your balcony is almost mandatory these days. Furthermore, blue lights illuminate Yas Island in Abu Dhabi in support of the #lLightItBlue campaign.
In conclusion, the entirety of the UAE is banding together in solidarity. Sheikh Mohammed is right. We will win.