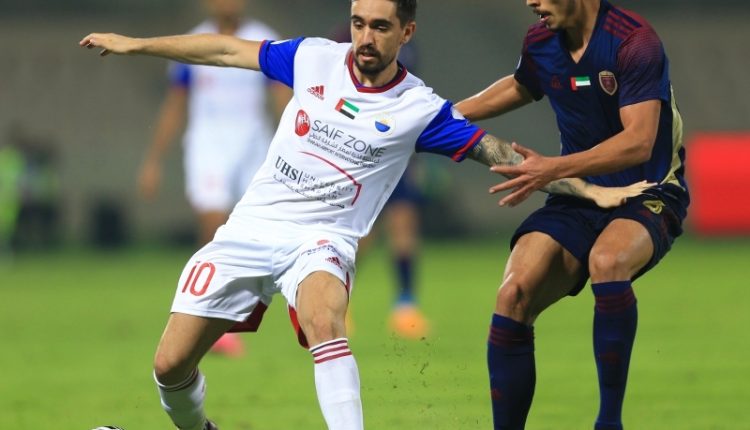 Sharjah specialist in switching happiness in killer time
Sharjah repeated what he did in the first round against Fujairah, in the confrontation of the second round with its guest Al-Wahda, to continue his specialization in the heart of the result and achieve victory in the killer time, in a scenario in which he turned "happiness" into heartbreak for Al-Wahda team, as appeared in the statements of its technical director, Serbian Vuk Razovic He lamented the luck of his miserable team after the match, while the national coach, Abdulaziz Al-Anbari, the Sharjah coach, warned against recurring such situations.
killer time and the critical moment
Sharjah team winning at the killer time
Al-Anbari said that winning at the killer time and turning the result for the second time in a row is a positive thing, noting that winning in this exciting and difficult way is due to the great desire in the team to win and to play with the same enthusiasm until the final whistle blows, and that is added to the good mental presence.
Among the players, but he warned at the same time not to engage in such situations constantly, and Al-Anbari admitted that there was a negative aspect that accompanied his team in the first two rounds, which is the late entry into the match atmosphere, and the result was not decided early, stressing that he would work to address this matter.
Al-Anbari said that the match was difficult, indicating that he asked his players to change the image in which they appeared in the first half and to beware of mistakes, because Al-Wahda is one of the teams that are good at exploiting the error, and he said that his team started the match well and controlled the ball, but the unit was Best organized.
Al-Wahda team Lonely heartbreak
On the other side, Serbian coach Vuk Rasovic attributed the loss of his team from Sharjah 1-2 to the first-class luck factor and said in his comment after the match that Al-Wahda had played a good football match and wasted 3 or 4 chances, each of which would allow the scoring after advancing with the goal of the lead, but they are Strangely lost, and he said that the well-known in football paid a high price when such opportunities were wasted, which is exactly what happened in the second half, so Sharjah equalized the result and then won with a goal in the killer time one minute before the end of the official time, and Razovic praised the level of his players, pointing That the loss in this scenario confirms his team's ability to compensate and compete strongly.