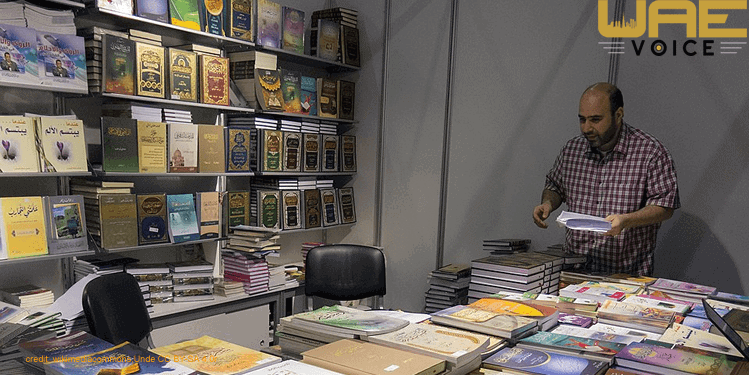 Sharjah Book Authority and Moscow's Directorate of International Book Exhibitions sign MOU to promote cultural exchange
The Sharjah Book Authority, SBA, sealed a Memorandum of Understanding, MoU, with the General Directorate of International Book Exhibitions and Fairs (GDIBEF) in Moscow during the progressing Moscow world Book Fair 2019, MIBF.
With a purpose to enhance collaboration in the cultural field, the agreement was signed in the presence of His Highness Sheikh Fahim Al Qasimi, Executive Chairman of Sharjah's Department of Government Relations, DGR; Maadhad Hareb Mughair Al Khaili, UAE Ambassador to Russia; Mikhail Shvydkoi, Special Representative of Russian President on International Cultural Cooperation; Vladimir Grigoriev, Deputy Director of the Federal Agency for Press and Mass Communications, by Andrey Gelmiza, General Director of GDIBE, and Ahmed bin Rakkad Al Ameri, Chairman of SBA.
As per the MoU, the two parties will compose a progression of groups to create joint plans and facilitate respective endeavors to advance Arab and Emirati culture in Russia, and correspondingly Russian culture in Sharjah and the UAE. Also, they will organize visits and cultural programs, including media foundations and encourage the collaboration of Emirati and Russian publishers in the two nations.
By signing the MoU, the two groups will likewise boost their dedication by offering joint proposition, recommendations, and suggestions to take part in cultural exhibitions and book fairs organized in Moscow and Sharjah. SBA will promote Russian publishers with staging at the Sharjah Children's Reading Festival, SCRF, and Sharjah International Book Fair, SIBF, while GDIBEF will welcome with open doors for Emirati publishers at Moscow's exhibitions and book fairs.
Ahmed Al Ameri, Chairman of SBA, stated: "Our MoU with GDIBEF is one of the most esteemed cultural endeavors in the world. It is another advanced step in Sharjah's attempts to boost collaborations with knowledge-based cultural centers universally. The agreement shows the vision of H.H. Sheikh Sultan III, Member of the Supreme Council and Ruler of Sharjah, which emphasizes the significance of books and learning in advancing diverse cross-cultural communication with nations around the globe."
Andrey Gelmiza, the General Director of GDIBE, stated: "We are keen to strengthen our association with SBA and upgrade joint prospects and productive collaboration, given the positive effect on the Emirati-Russian educational, cultural and innovative field. We trust this MoU opens a new opening for bilateral ties and coordinated efforts to advance Arab and Russian societies universally". (Credit to the Emirates News Agency).
Credit:- Emirates News Agency (Credit to the Emirates News Agency).
Credit:- Emirates News Agency