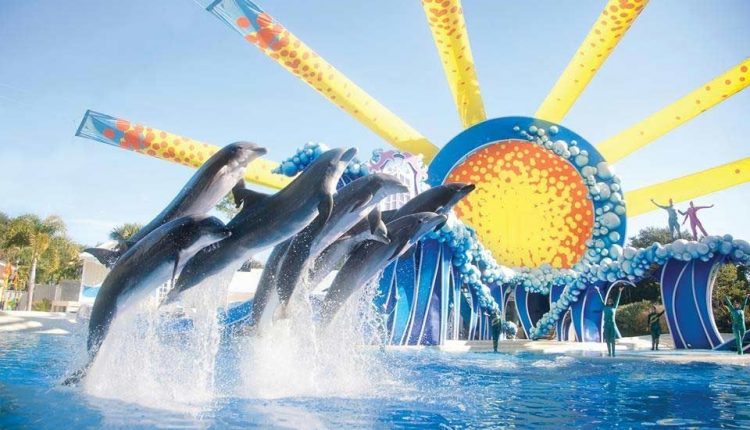 SeaWorld Abu Dhabi hosts Khaled bin Mohamed bin Zayed on Yas Island
H.H. Sheikh Khaled bin Mohamed bin Zayed Al Nahyan, Member of the Abu Dhabi Executive Council and Chairman of the Abu Dhabi Executive Office, visited SeaWorld Abu Dhabi on Yas Island, completing over 40% of its building.
This pioneering project will bring the next generation of marine life theme parks to Yas Island in partnership with SeaWorld Parks & Entertainment and will be home to the first dedicated aquatic science, recovery, restoration and return centre in the UAE that will have world-class facilities to support regional and global conservation efforts.
SeaWorld Abu Dhabi is a great attraction
The expansion, expected to be completed by the end of 2022, will be the next mega attraction for Yas Island, complementing Miral 's growing portfolio and expanding the island's current offering, further positioning it as one of the world's top destinations.
Sheikh Khaled was briefed during the visit on a multi-level project with a total area of approximately 183,000 square metres and the architecture of the park, which draws on SeaWorld's more than 55 years of expertise in marine science, restoration, and animal welfare. As they are in the wild, SeaWorld Abu Dhabi will feature purpose-built environments and ecosystems that will host numerous organisms together.
The marine life theme park will have exclusive sensory experiences until finished, including tourists from the UAE and around the world, enhancing their awareness and understanding of marine life.
SeaWorld Abu Dhabi will feature six distinct realms that tell a cohesive and interactive "One Planet" storey that illustrates the interconnection between all life on Earth and our oceans-"We are connected to the Planet, and all of us are connected by the Ocean. 
"Scott Ross, Chairman of SeaWorld Parks & Entertainment, elaborated on the collaboration with Miral," It is a pleasure to work with Miral, a best-in – class company, to create the first new SeaWorld Park in more than 30 years and the first outside of North America. Yas Island is a groundbreaking and revolutionary initiative and is now becoming a global travel destination.
The new research centre will act as an integrated science centre to help understand and preserve the region's aquatic life and environment for academics, biologists, and aquatic conservationists. Live work on indigenous Gulf animals such as dugongs and sea turtles will be included in the study, thus also adding to the global marine science culture.
In addition, the centre will expand the current global presence of SeaWorld and play a critical role in the region's rescue and recovery efforts. To date, more than 37,000 animals in need have been rescued by SeaWorld, restoring many to the wild and offering an eternal refuge for animals that can not easily return to the wild.