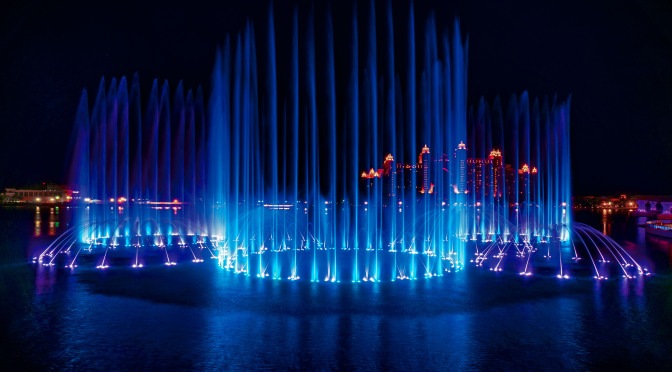 The Palm Fountain wins the "Guinness Book of Records"
The "Palm Fountain" in "The Stage" from "Nakheel", the first lifestyle and dining destination in Dubai, won the "Guinness Book of World Records" as "the largest fountain in the world" after the wonderful celebration of its launch, which was seen live in different parts of the world through broadcasting.
The Palm Fountain
A crowd of visitors, locals and tourists attended the event, watching the "Palm Fountain" break the record and enjoying an exclusive song specially created to celebrate the spirit of this lively and inspirational city called "Dubai is another world."
A celebration of the imagination and desires of Dubai, the "Palm Fountain" covers an area stretched over more than 14,000 square feet, submerged by seawater and radiated by 3,000 colorful "LED" lights at night, and is marked by its giant pump that throws water to a height of 105 meters.
The Palm Fountain is a wonder
"Omar Khoury, CEO of The Point's Nakheel Malls, said:" Nakheel expresses his admiration for the leadership of Dubai, which has helped us to attain the title of the world's largest fountain. It is a historical moment that strengthens our steadfast devotion to adding more new experiences. And this city is exceptional in representing all stakeholders … We look forward to the inspiration that this fountain would offer to guests of The Point, citizens of the United Arab Emirates, merchants, tourists, and the global community on a broader scale, as the founders of shopping destinations and urban lifestyles in Dubai.
The festivities witnessed the unveiling of the "Palm Fountain", a series of live performances and artistic performances, including dazzling fireworks displays, during which stringent health and safety procedures were observed.
To mark the momentous event, two of the Middle East's award-winning Disney best-selling songs – Let It Go from Frozen and A Whole New World from Aladdin – were performed, and are part of the daily 'The Palm Fountain' services.
Between sunset and midnight, this fountain will open its doors to the public during the year, enabling guests to experience more than 20 detailed shows in 5 different styles as water columns sway to the beat of a number of popular music, including Gulf, Pop, Classical, International, and others. Each show lasts 3 minutes and is fully performed every 30 minutes.