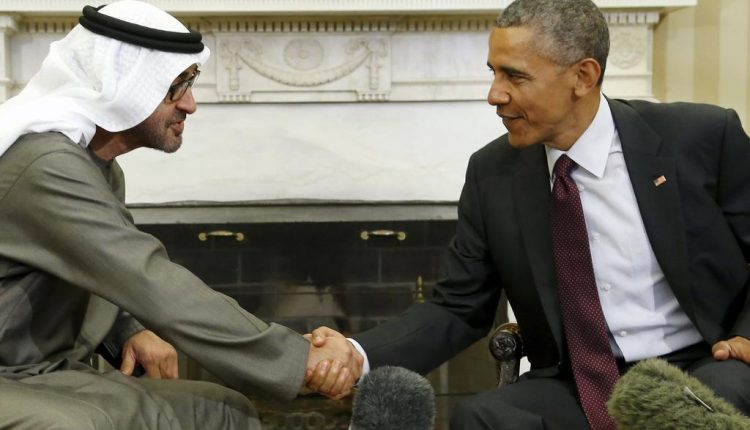 Analysts and diplomats to UAE Voice: Obama's new memoir justified UAE and Sheikh Mohammed bin Zayed
In his book "A Promised Land", The Former US President Barack Obama illustrated that his goal was to give readers some insight into the events and people that shaped him during the early years of his presidency. One of those people was His Highness Sheikh Mohammed bin Zayed, Crown Prince of Abu Dhabi. Obama described Bin Zayed as "A young, seasoned and perhaps the smartest leader in the Arab Gulf Region". 
Accordingly, UAE Voice was keen to communicate with various VIPs, Diplomats, journalists, etc. In order to know their views on this matter.
Mohammed bin Zayed is the smartest Arabian leader
By asking Mr. Edy Cohen- An Israel Journalist, Researcher, and Expert on Arab Affairs- about what Mr. Barack Obama had said about His Highness Mohammed bin Zayed, he said. "Sheikh Mohammed bin Zayed, without courtesy, is the smartest leader in the Arab World. Not just in the Gulf area. Especially because he cares about his people."
Within the same context, Mr. Roi kais -Arab Affairs Correspondent Kan- affirmed that the statements of Mr. Barack Obama concerning His Highness Mohammed bin Zayed was "Truthful". His Highness is the most seasoned and smartest leader in the entire Arab region. 
In turn, H.E. Emmanuel Nahshon- Ambassador of Israel to Belgium and Luxembourg and Former spokesman of the Israeli Foreign Ministry- praised the statements of Mr. Barack Obama, especially what he said about the role of the UAE in the Arab region, and about the personality of H.H. Sheikh Mohammed bin Zayed as a seasoned man and the smartest leader in the region.
UAE's role in the world is irreplaceable
On his part, Mr. Mohammed Hamed -Chief of Euro-Mediterranean Forum for Political Studies- mentioned that Obama's statements are of significance, indicating his realistic vision of the Arab region during being a US president for 8 years. Also of the pioneering economic renaissance by the United Arab Emirates that was rapidly transforming into an effective political role in the Arab region.
Abu Dhabi managed to put an end to the security deterioration and instability that befell the Arab region through adopting a strategy of preserving the national countries and fighting extremism, and Egypt was one of these countries.  According to Obama's memoirs, the fall of Egypt meant the fall of the entire Arab region, which Sheikh Mohammed bin Zayed has also affirmed. The UAE had been proactive in warning of the danger that the Muslim Brotherhood assuming power in Egypt, but the matter did not satisfy Washington. Accordingly, the UAE quickly assumed the task of confronting the rise of extremist groups in the Arab region.
His Highness is a light in our times
On a related level, Mr. Nasser Hassan Al Shaikh – An Economic Emirati and Former Director-General of Dubai Department of Finance, Government of Dubai- said. "A well deserved acknowledgement of His Highness Sheikh Mohammed bin Zayed as His Highness is a low key when it comes to express his political views in public where he's mostly addressing public social matters that are important to the public. But such remarks unveil a bright side of Bin Zayed which the public isn't really aware of. It's positive for the public to have a glimpse of what Bin Zayed is like in private discussions and what his strategic views on the region are. Actually, it's a breeze in current very gloomy times."
On a related level, Mr. Dmitry Romanyuk – A Russian Media Expert- comment on Obama's statements, saying: "Barack Obama's statements about H.H.Sheikh Mohammed bin Zayed seem like a good gesture. If we are talking about the sheikh that I have in mind, he is- in fact- a statesman on a large scale, as he is a generous man who supports women empowerment, stands strongly against extremism, and has a good reputation. Furthermore, Mr. Romanyuk affirmed that the USA has long-standing and strong relations with the United Arab Emirates. Therefore, it would be inappropriate for Mr. Obama not to mention prominent leaders from the allied countries. As part of his memoirs,"A Promised Land", Mr. Obama expressed his deep respect for these ties as a normal step.