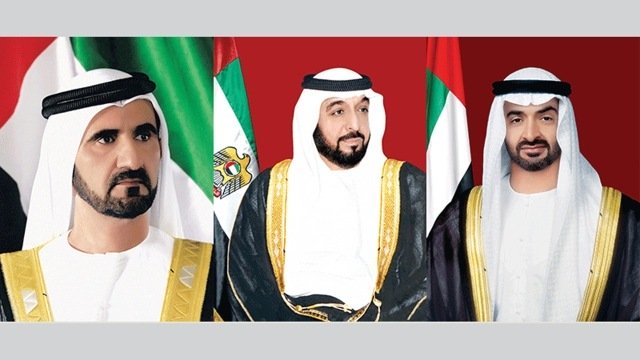 Mohammed bin Rashid and Mohammed bin Zayed congratulate the people of the UAE
His Highness Sheikh Khalifa bin Zayed Al Nahyan, President of the State, His Highness Sheikh Mohammed bin Rashid Al Maktoum, Vice President and Prime Minister and Ruler of Dubai, and His Highness Sheikh Mohammed bin Zayed Al Nahyan, Crown Prince of Abu Dhabi and Deputy Supreme Commander of the Armed Forces, congratulated the people of the UAE And residents on its land on the achievement of the Abu Dhabi Stem Cell Center and its success in developing stem cell treatment for the emerging coronavirus (Covid 19), which includes extracting stem cells from the patient's blood and re-entering them after activation.
Their Highness expressed their sincere thanks and appreciation to the Emirates people for the team of doctors, researchers and workers at the Abu Dhabi Stem Cell Center for their great effort in reaching this scientific achievement that would contribute to the international efforts that are currently being made to eliminate the emerging "Coronavirus "Covid-19" and preserve For the safety and health of the entire population of the world.
Their Highness affirmed that the UAE attaches the life, health and safety of the human person to the highest importance and places it at the top of its priorities and plans and will continue to reinforce proactive measures, procedures and initiatives that guarantee the safety of its community of citizens, residents and visitors to its land and preserve their lives and health … Noting that the UAE has been keen since the beginning of the "Corona crisis" On the speedy taking of precautionary steps and measures to preserve its health, social and economic security.
Their Highness praised the efforts of all sectors and institutions in the country and its sincere cadres that perform their duties with high efficiency, responsibility and professionalism during these exceptional circumstances and the difficult challenge especially the first line of defense in the face of "Coronavirus" from all medical, nursing and health cadres and everyone who belongs to the health sector with all its branches.