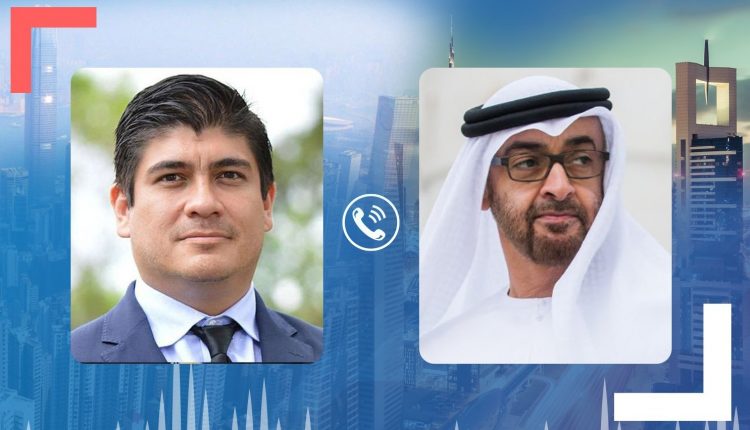 Mohamed bin Zayed gets a phone call from the President of Costa Rica
Carlos Alvarado Quesada president of Costa Rica today made a phone call to His Highness Sheikh Mohamed bin Zayed Al Nahyan, Crown Prince of Abu Dhabi and Deputy Supreme Commander of the UAE Armed Forces.
The two sides explored relations of friendship and collaboration between the two countries during the discussion and ways to strengthen them.
They also addressed a variety of regional and international issues of common concern.
Promising collaboration between UAE & Costa Rica
Sheikh Mohamed and President Quesada reviewed collaboration prospects. As well as attempts by the two countries to control and mitigate the coronavirus epidemic during the post-pandemic period.
The Costa Rican President re-assured Sheikh Mohamed of the situation there after heavy rains and floods triggered by Hurricane Eta, hit a number of countries in Central America and resulted in casualties and damage.
President Quesada thanked Sheikh Mohamed for his generous sentiments and shared the UAE's hopes for more development and growth.
Medical Aids show great relations between the two countries
The UAE sent to Costa Rica a second aid aircraft a month ago. It contained 12 metric tons of medical equipment and research kits. About 12,000 medical practitioners will benefit from this assistance as they work to suppress the infection.
"Commenting on the distribution of assistance, His Excellency Juma Al-Rumaithi, Ambassador of the United Arab Emirates to Costa Rica, said: "This dispatch of a medical aid plane to Costa Rica is part of the support for the excellent bilateral relations between the two countries and a boost to the efforts of the friendly country to fight the virus.
The first aid plane was also bringing 8.5 metric tons of medical supplies. It was sent last June as part of efforts to support and offer additional security. A security to healthcare staff in Costa Rica in containing the pandemic". His Excellency said back then.