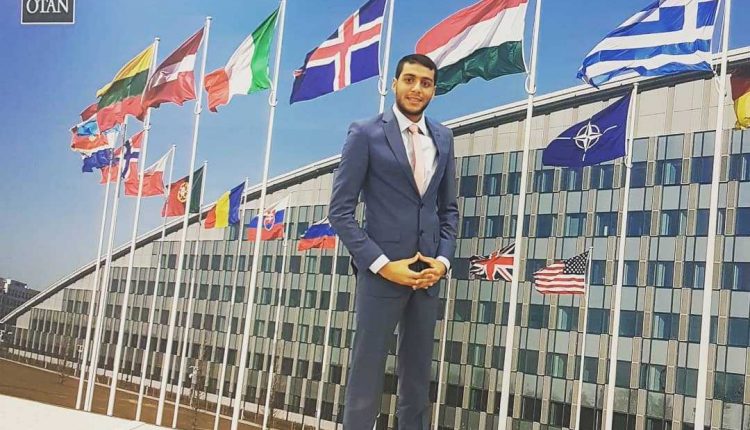 Mochament Elsaer: Promising future of UAE & Greece
Through Mochament Elsaer interview with UAEVOICE he was able to clarify his opinion about the cooperation between UAE and Greece from a financial and a diplomatic/military prespectives.
Brief about Mochament Elsaer
Mochament Elsaer is a political scientist with expertise in defence and security.
He is the founder and President of the Transatlantic Association United Kingdom.
He is a recipient of the prestigious Chevening Award 2019 by the HM Foreign & Commonwealth Office (FCO) and HM Government of the United Kingdom.
In 2019, Mochament Elsaer organized and led a delegation of scientists from the War Studies Department (King's College) to the North Atlantic Treaty Organization Headquarters (NATO), Supreme Headquarters Allied Powers Europe, and the EU Parliament.
Mochament Elsaer interview with UAEVOICE
The UAE and Greece have become a pioneering model in cooperation, especially military cooperation. From Mochament Elsaer point of view, what are the next results of this?
Mochament Elsaer said: The cooperation between UAE and Greece has emerged into a strategic partnership which consists of two parts: a financial and a diplomatic/military cooperation.
Mochament Elsaer added: This pioneering model of cooperation touches on common strategic grounds that promote peace and tranquillity in the Region. From this strengthening of ties, we should expect mutual benefits for the UAE but, also, Europe. In terms of military cooperation, implementing a commonly shaped agenda has the potential to stabilize a troubling region.
Already, many regional powers including Israel, Egypt, and Cyprus have expressed their interest in deepening their partnership with Greece. This is a significant step for both Greece and the UAE because it reinforces the common goal of sustainability, development, and preservation of peace.
Mochament Elsaer stated that From a financial perspective, this partnership creates many opportunities for UAE businesses that aspire to operate in Europe and access the Custom Union. With the appropriate arrangements, I can see Greece becoming a bridge between Europe and the UAE.
What other areas does Mochament Elsaer think the two countries should cooperate in?
Mochament Elsaer said: this cooperation promises to elevate to an economic and cultural partnership. Areas such as tourism, education, and technology could play a significant role in economic growth.
Mochament Elsaer added: There is plenty for room for exchange programs between Greek – UAE universities and research institutes. Greece has one of the highest rates of highly skilled labour in the world, this can be very beneficial in terms of technological evolution and development between the two countries.
Mochament Elsaer stated that: It also opens opportunities for investments in the industrial sector and why not for a special partnership with the European Union. Free trade and unrestricted movement between the UAE and the EU could become a reality.
Greece is known for its permanent support for peace, just like the UAE. What does Mochament Elsaer think of the initiatives and agreements that the UAE has undertaken to achieve peace?
Mochament Elsaer said: Historically, Greece has always been an advocate of peace and stability; a true safeguard of International Law. It is worth saying that since the Second World War Greece has not been involved in any war and has always supported peacebuilding when conflicts arose.
Mochament Elsaer added: The agreements with the UAE serve exactly this mission of peace preservation and the implementation of good practices with neighbouring countries. Such initiatives can produce positive effects and dissuade aggression in the Region. Because cooperation always makes countries stronger.
Mochament Elsaer stated that: All in all, the stronger peaceful powers become, the easier it is to force peace. Such initiatives signal the importance (for other peace-advocates) of joining forces with Greece and the UAE for regional stability.
In the last period, Turkey's position has become clear in relation to many countries, especially Greece. What does Mochament Elsaer think of the approach this country is following?
Mochament Elsaer said: In the last few years, the International community has experienced many challenges. Some regional powers have shaped unorthodox foreign policy agendas, flexing their military muscles against peace-advocates.
Mochament Elsaer added: They take advantage of the pathetic European stance that resulted in a power vacuum in the East Mediterranean. Unless a coordinated European and international campaign is launched, ultranationalism will not cease to exist. A few decades ago, ultranationalism led to the outbreak of the most devastating war in human history.
Mochament Elsaer stated that: It looks that some countries prioritize their financial interests, disregarding the historical experience, and documented evidence. We should expect more conflicts, instability, and war-fighting in the region unless decisive actions are taken immediately.
The UAE Minister of Foreign Affairs issued a statement mentioning his fluff in establishing a deep strategic relationship, just as joint military training has already taken place between the two countries. How much do the government and people welcome this fraternal relationship between the two countries?
Mochament Elsaer said: The Greek people have very welcomed the deepening of bonds with the UAE. The vast majority supports the joint exercises and combat manoeuvres in the East Mediterranean and Crete.