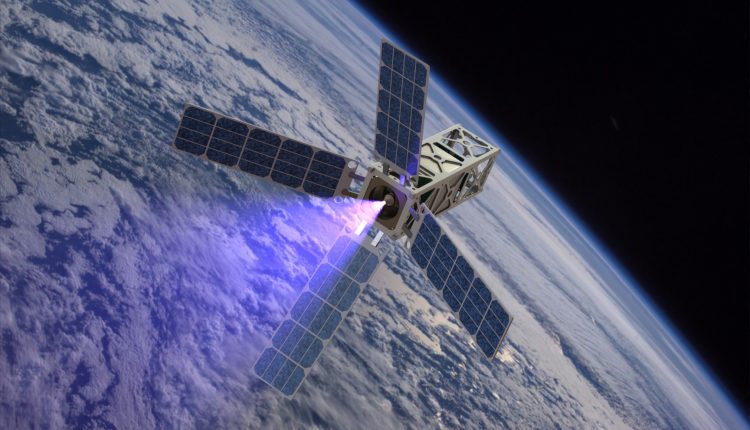 UAE launches MeznSat mini-satellite into orbit
MeznSat, a national initiative of the UAE, in collaboration with the UAE Space Agency, the American University of Ras Al Khaimah, AURAK, and Khalifa University, KU, took off from the Plesetsk Cosmodrome in Russia on board a Soyuz-2b rocket.
MeznSat, a nano-satellite, weights about 2.7 kg and measures 10 cm x 10 cm x 30 cm. A team of postgraduate students from KU and undergraduate students from AURAK will track, process and analyze the data sent to the ground station at the Yahsat laboratory of KU and the AURAK ground support station.
MeznSat seeks to enrich scientific studies and coordinate events related to space while researching the phenomena of Greenhouse Gas and Red Tide in the atmosphere of the UAE.
Using shortwave infrared spectrometers, the UAE MeznSat can analyze and identify greenhouse gases, GHGs, concentrations, carbon dioxide and methane.
Data from the primary ground station at Yahsat Space Lab at Khalifa University and the secondary ground station at AURAK will be tracked, interpreted and analyzed by students at Khalifa University and the American University of Ras Al Khaimah.
The Agency also verified the completion of all special arrangements. To position the satellite on the launch pad and to carry out successful tests and final satellite readiness reviews.
With this mission, the 10 satellites deployed by the UAE will be accompanied by 'MeznSat' to develop national technologies. Also strengthen scientific exploration activities and control the operations of the national space industry.
Why MeznSat is so important
Next November, which is one month after its launch, the new satellite is expected to enter orbit. The students' team would then track, process and interpret the data from a ground station in the UAE.
The techniques and skills used in atmospheric surveillance are equivalent to those used during traditional earth observation programs.
The project will help young Emirates in the development of the skills needed. Skills for the ambitious National Space Program of the UAE and its future ventures.
The satellite would measure the concentration and distribution of methane and carbon dioxide in the atmosphere using a visible camera. As well as a shortwave infrared spectrometer.
It would also offer useful insight into the abundance of nutrients in the coastal waters of the Arabian Gulf. Allowing forecasts of algal blooms to be more reliable and encouraging the prompt introduction of effective precautionary steps.