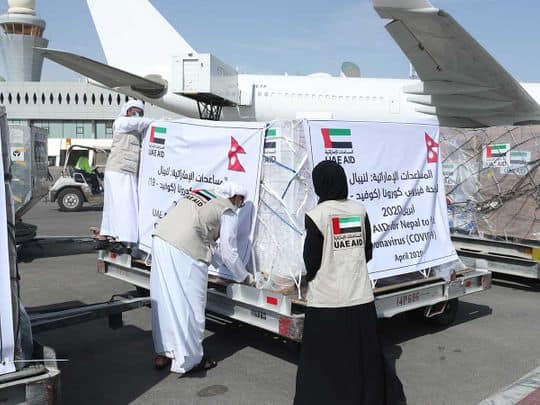 Medical aid from the UAE arrives in Nepal and Philippines
The United Arab Emirates is continuing to send medical aid to countries suffering from the Coronavirus (COVID-19) pandemic. Now the Philippines and Nepal will receive critical aid supplies.
Nepal and the Philippines join the list of aid beneficiaries
Medical aid flights have made their way to both Nepal and the Philippines. Each plane flew out containing 7 million tons of medical supplies. This will provide the necessary resources against the infection for over 7,000 medical professionals in each country. For a total of 14,000 medical professionals who benefit from these aid flights.
Hamad Saeed Hamad Obaid Alzaabi, UAE envoy to the Philippines commented on the aid flights. "Our two countries share a deep partnership between our governments and peoples, and it is our sincere hope that such assistance enables the Philippines to take the necessary action to defend itself against COVID-19".
Medical aid flights will continue
Humanitarian initiatives from the UAE will continue to supply medical aid flights until the pandemic ends. The UAE is demonstrating a strong commitment to providing help to all nations. The cooperation of all different countries is truly essential during this difficult time.
This philanthropic spirit of humanity will truly deliver what is needed to defeat the Coronavirus. Solidarity from the UAE to all people is more important than ever.
How has Coronavirus affected Nepal?
Nepal is currently in the early stages of the Coronavirus outbreak. There are currently only 57 people carrying the viral infection. 16 people have safely recovered from the virus. Nobody has died from Coronavirus in Nepal.
How has Coronavirus affected the Philippines?
The Philippines is currently experiencing an explosion in Coronavirus infections. The number of people currently carrying viral infection is nearing 9,000. Over 1,000 people have safely recovered from Coronavirus in the Philippines. 568 people have sadly lost their lives to the deadly virus.