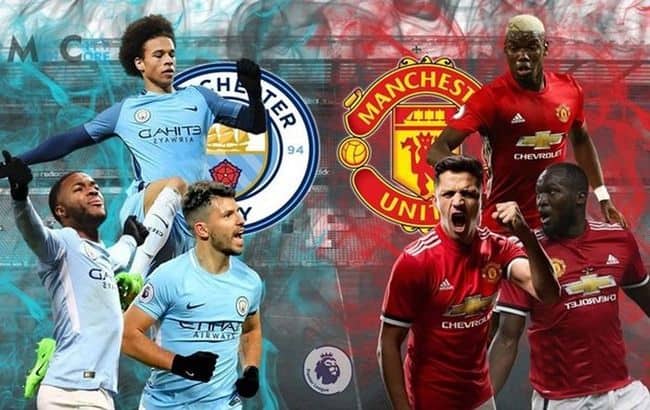 Manchester City vs Manchester United Head-to-head
Manchester City welcome Manchester United to the Etihad Stadium today for the 179th edition of the Manchester derby as both sides look to build on midweek wins, today head to head at 17:30pm UK time.
The previous meetings between both teams was incredible with Manchester City winning 3, while Manchester United won 1. Manchester City need to win this game today against Manchester United to ensure Liverpool lead is kept at a minimum of 11 points. 
City are lagging behind Liverpool by eleven points. The first phase of the season is almost over, and the Reds are not showing any signs of slowing down.
The matches continue to come thick and fast for Man City as they gear up for a festive period in which the quality and depth of their squad will be tested to the limit.
Manchester City:
Beat Burnley in midweek but are still third in the Premier League. They trail Liverpool by 11 points and now have a home game against sixth placed Manchester United. At least City got back into winning ways on Tuesday night after a run of only one win in their last five league and cup games. City know they have to go on an extended winning run if they are to get anywhere close to Liverpool.
They have a tough fixture list though as after this game against United, they take on Arsenal, Leicester City and Wolverhampton Wanderers. Home form remains strong for City with five wins out of seven in the Premier League this season. Recent games against Manchester United have seen City win four of the last five league meetings. However, only one of the last four home league games have been won by City.
Manchester United:
Climbed to sixth in the table after beating Tottenham at home on Wednesday. That left them still eight points adrift of the final Champions League place. They looked to be in good form against Tottenham with Marcus Rashford in particularly good form.
Consistency is the problem that United have and you need to go back to March of this year for the last time they won two consecutive league matches. Away form isn't helping them in that cause with only one win in seven matches in the Premier League this season. Only one of their last 11 away league games have ended in victory for them, a 3-1 win at relegation threatened Norwich City. 
Key points Manchester City – Manchester United
Both teams have scored in three of the last four games between these two clubs.
Only in one of the last seven Manchester United Premier League games have both teams not got on the scoresheet.
Each of the last eight Manchester City games have seen both teams score.
Fans can check out the global TV listings below to find out how you can tune in courtesy of livesoccertv.com, Sky Sport 1 HD, Football.com,http://www.mirror.co.uk