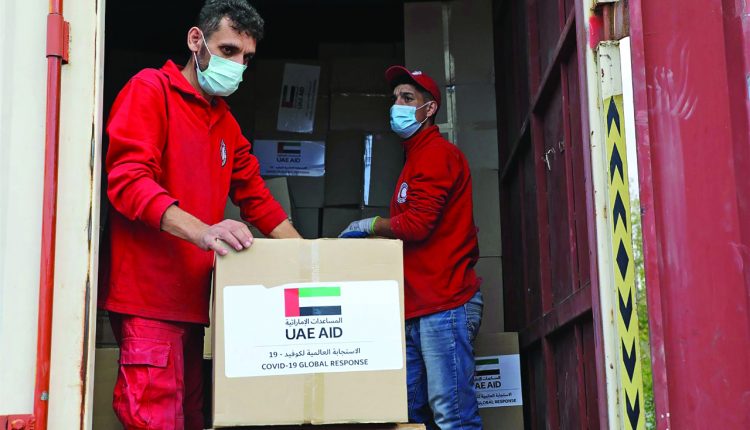 Land aid convoy arrived from UAE to Syria to fight COVID-19
Under the directives of the Ruler's Representative in the Al Dhafra Region, Chairman of the Emirates Red Crescent Authority, His Highness Sheikh Hamdan bin Zayed bin Sultan Al Nahyan, a land aid convoy carrying 22 tons of medicines and medical materials arrived in Damascus, which the authority carried out in coordination with The Syrian Arab Red Crescent (SARC).
UAE faces COVID-19 with a land aid convoy
The assistance to curb the spread of the COVID-19 pandemic on the Syrian areas comes within the framework of the UAE's global response to the epidemic, strengthening preventive and precautionary measures, and supporting the Syrian medical sector to face the next challenges by sending a land aid convoy, and thousands of workers will benefit from this Health aid in Syria.
The ERC Authority sent a land aid convoy to Syria
Mohammed Ateeq Al Falahi said that the Emirates Red Crescent (ERC) Authority carried out a land aid convoy of medical aid in coordination with the Syrian Red Crescent Society (SARC), within humanitarian cooperation between the two countries, and the authority's keenness to support the Syrian National Society and its efforts in the health field on the local arena.
Al Falahi pointed out that medical aid includes the basic materials used to enhance preventive and precautionary measures to confront the Corona pandemic, help medical personnel to perform their role, and this is the fourth convoy of medical aids to Syria.
UAE's Global Response to the epidemic
Secretary-General of the Emirates Red Crescent Authority, Mohammed Ateeq Al Falahi, said that the initiatives are undertaken by the UAE to support international efforts by sending aid convoys to combat the global spread of the Coronavirus in several countries to limit the spread of the epidemic and enhance the capabilities of medical personnel, showing that His Highness Sheikh Hamdan bin Zayed bin Sultan Al Nahyan's interest in the aid provided by the authority.