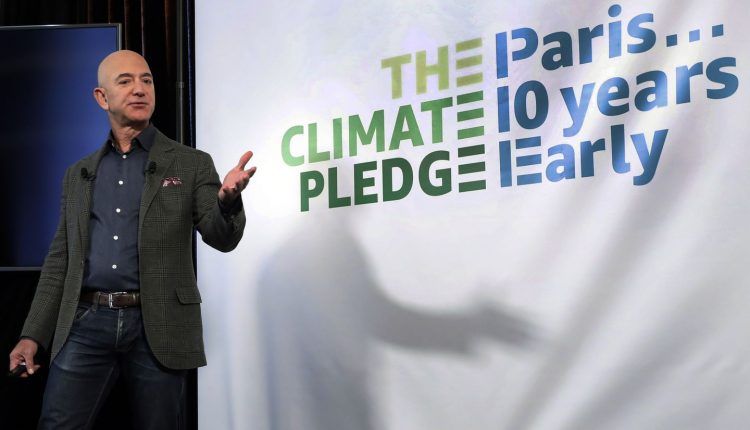 Jeff Bezos Commits $10 Billion to Tackle Climate Change
Today, Jeff Bezos Amazon's CEO announced that he would be committing $10 billion to fight climate change through a new fund called the Bezos Earth Fund.
Jeff Bezos Commits $10 Billion to Tackle Climate Change
Amazon CEO Jeff Bezos announcement
He announced in a post on Instagram about a new fund, Amazon confirmed the existence of the fund:
Bezos Earth Fund
Bezos said that:
Firstly, The money is for helping scientists, activists, NGOs, and "any effort that offers a real possibility"
In order to help preserve the earth from the impact of climate change.
Finally, a person close to the fund told The Verge that it would not engage in private sector investment, but focus entirely on charitable giving.
? Jeff Bezos? Amazon CEO Jeff Bezos announces he will commit $10 billion to fund ?- Scientists- Activists- Nonprofits – Other groups fighting to protect the environment and counter the effects of climate change.#UAEVoice #Amazon #ClimateChange #Environment

Geplaatst door UAE Voice op Dinsdag 18 februari 2020
Applying for grants acceptance
Firstly, the fund plans to begin issuing grants this summer.
But right now, there are few hard details besides what Bezos shared on Instagram.
Eventually, It isn't clear exactly how or when applications for grants will be accepted.
Climate Change
Extreme weather strikes again
Extreme weather causing chaos in different places across the world.

As well as, with such climate change, Extinction Rebellion protesters have dug up the lawn of Trinity College, Cambridge, as part of a week-long series of demonstrations.
Eventually, it calls for non-violent civil disobedience in an effort to force governments to cut carbon emissions to tackle the climate crisis.
? Extreme weather strikes again.

……. ?Quick process panorama of the incoming storm that hit Melbourne.
… ?Impressive storm this evening, for Melbourne.#UAEVoice #vicweather #janesweather #melbourne #melbweather #melbourneweather #Australia pic.twitter.com/ZEZbqeMc87

— UAE VOICE (@uae_voiceen) February 18, 2020
Extinction Rebellion protesters have dug up the lawn of Trinity College, #Cambridge as part of a week-long series of demonstrations.
?It calls for non-violent civil disobedience.
?️Extreme #weather causing chaos in the #UK RIGHT NOW. #UAEVoice #ClimateChange #climatecrisis pic.twitter.com/eqtIigXYxh

— UAE VOICE (@uae_voiceen) February 17, 2020